If you've been wondering 'how to sell a story about my wedding day' – you're in the right place!
SellUsYourStory.com is part of the largest independent press agency in the UK.  We help normal people share their stories with the press and get the maximum fee possible. So, if you want to know 'how to sell a story about my wedding day' – we're here to help. Our service is free.
We supply up to 20% of all daily print news to the national papers and we'll consider any story, but if you'd like more info specifically about how to sell my wedding story, you'll find more on our You can see our Sell a Wedding Story to the Press page. 
Our Fairytale Wedding
This month, we helped Toni Orford share her ultimate fairytale wedding with a magazine. The exclusive magazine deal even helped Toni and Eric pay for their wedding!
With her elegant flowing gown made from yellow diamante-studded taffeta, hugged at the waist by a tasteful bodice; with matching evening gloves, and delicate ringlets cascading from her hair, Toni Orford felt every bit the belle of the ball.
But this was no ordinary ball, and Toni was no ordinary belle.
In fact, Toni was channelling the Belle from Disney's Beauty and the Beast, and her chaperone, moments away from becoming her prince, in a royal blue frock coat, yellow cummerbund and frilly dress shirt, was partner Eric, her Beast.
The Disney-mad couple had organised a true fairy-tale wedding after asking their guests to don Disney-themed costumes for their big day.
And not only did their guests oblige them, but some went the extra mile: Toni's mum (Eric's mother-in-law) came as the evil Cruella de Vil from 101 Dalmatians.
Her dad, (Eric's father-in-law) came as Fred Flinstone, and among the guests were a Minion, Sleeping Beauty, Woody from Toy Story, Cinderella, Elsie from frozen, Mary Poppins, and even a Joker from Batman.
In all over 70 people came to the fancy-dress ceremony as one character or another, and made the couple's fairy-tale dream come true.
But the madcap wedding wasn't always on the cards. In fact, for Toni's husband, Eric Orford, 25, he only found out about it when Toni told him one day after work.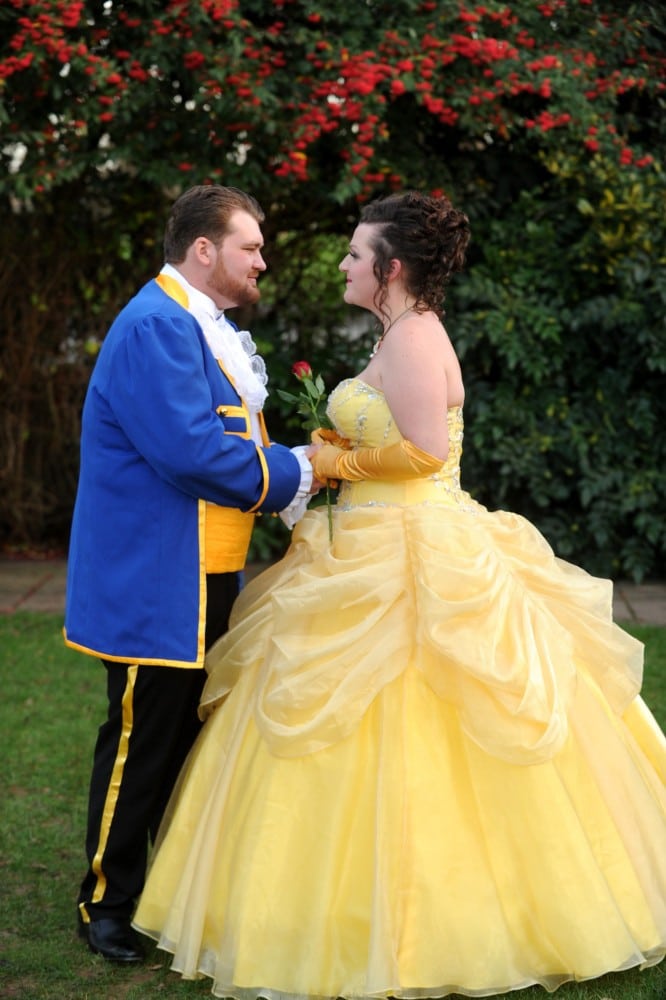 Surprise Wedding
The couple had met while Toni, 32, was working on a banana farm Down Under after she went travelling and ended up penniless.
They quickly fell in love and Toni decided to permanently emigrate to Australia, buying a house in Toowoonba, Queensland.
Planning her first trip home to Plymouth in over two years, and miffed that Eric had yet got down on one knee, Toni decided to book the wedding and tell the groom-to-be later.
She explains: 'It didn't take very long to plan at all. Even though it was all done over the phone.
'Eric had never actually proposed but we had talked about marriage for a long time so I just called my sister one day and got her to book it.
'When Eric got home I said, 'Guess what? We're getting married!' and he was fine with it.'
Beauty and the Beast
The most surprising part of this fairy-tale though, is that the Beauty and the Beast idea was actually Eric's. They agreed that neither wanted a traditional wedding, but deciding how to proceed with such short notice was quite tricky.
A stereotypical Aussie: burly and hairy, Eric's solution was simple: 'As long as I can go as the Beast, then I don't mind what happens.' And so the stage was set – a cartoon, Disney-themed wedding it was to be.
Delighted Toni picked out Belle's canary yellow diamante-studded frock and evening gloves, and set about informing her friends and family of the unorthodox dress-code.
Toni says: 'I've never really dreamed of a big white dress, I wanted it to be laid back and relaxed and I wanted everyone to have fun.
'I love dressing up, I always have and I've always been a fan of Disney, me and my sister used to watch it together and sing all the songs.
'I only chose to go as Belle because my husband wanted to be the Beast, as he's a big and hairy Australian.
'We had about 60 or 70 guests and most of them dressed up. There were three or four that didn't get involved, there always are.
'People absolutely loved it. A few people were a bit unsure about it at first but lots of people told me how nice it was, it was really relaxed.'
Those invited were met with the famous song from the film, Be My Guest, and the couple walked down the aisle to A Tale as Old as Time. A white cake with a single red rose under a crystal vase topper finished off the Beauty and the Beast theme.
'It was really lovely – it wasn't too pretentious, it was relaxed but fun, just what we wanted.
'I ordered the dress from American and had it sent to England, so I hadn't tried it on before which was pretty nerve-wrecking.
'Luckily it fit perfectly. I loved it, I had a great day. It was beautiful.'
The ceremony was a fairy-tale from start to finish. Joining the throng as they waltzed down the aisle were Minnie Mouse and Goofy, Tinkerbell and Little Red Riding Hood, Olaf the Snowman, Jack Sparrow, Superman and the Red Queen from Alice in Wonderland.
---
How to sell a story about my wedding day
How to sell a story about my wedding – all you need to know…
You can simply contact us using the Story Valuation form on this page.  You only need to provide the basic details of your story and one of our team will get back to you to find out a little more, and tell you what it's likely to be worth based on similar sales. There is no obligation, and nothing will ever be used without your permission. To find out more about the story selling process, see our Sell My Story page.
When it comes to wedding stories, we're after anything quirky, bizarre, hilarious, or heartbreaking. See more here: Sell a wedding story to the press.
If you'd like to see other wedding stories that we've helped clients sell to magazines and newspapers, see a small selection here: Recent client's Wedding Stories.