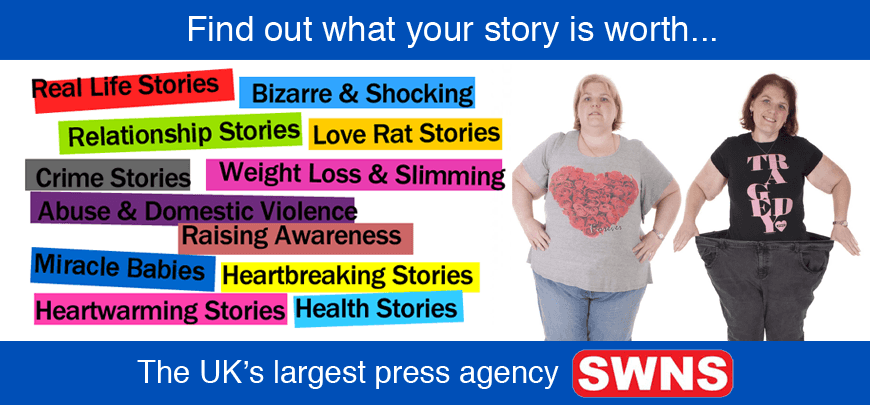 Fill out the STORY VALUATION form to get your story valued
If you have a story that you think is suitable for a magazine or newspaper, you can get it valued, here, for free.  Just tell us a little bit about your story by completing the form on this page.
How to fill out the STORY VALUATION form
You don't need to send us the whole story.  Just stick to the main points (a list of what happened will suffice at this stage). The form is for valuation purposes only and we won't publish, share or use anything you send us until you give us the go-ahead.  All we need is a brief idea of what your story is about (For example, you could say something like: I lost 10 stone after my husband dumped me for being overweight following the birth of our children).  The more simple you make it, the easier it will be for one of our team members to make a valuation.
Your story is safe with us
SWNS is the UK's largest independent press agency. We supply around 15% of the nation's daily print news. Our team of friendly trained journalists will to tell you if your story is suitable for national magazines, newspapers, or both; how much it is worth; and who is likely to want to buy it from you. We guarantee the highest fees.
How to get the most money from your story
To get the most money from selling your story to the press, you need to approach the publications in a specific order and in the right way.  Our team are experts at securing you get the highest fee possible, ensuring that you get paid, and making sure that nobody steals your story or uses it without our permission.  Our service is free (we are paid directly from the press for supplying and writing your stories).
Find out more about how to sell my story to the press: How to Sell My Story to the Press
Check out a small selection of our recent clients below…
[vc_row][vc_column width="1/1″][vc_home_column_posts title="Real Life Stories" cat_bg="#ff2323″ grid_categories="real-life-story" grid_teasers_count="5″ title_link="https://www.sellusyourstory.com/news/category/real-life-story/"][/vc_column][/vc_row][vc_row][vc_column width="1/1″][vc_home_masonry_posts title="Weight Loss & Slimming Stories" title_link="https://www.sellusyourstory.com/news/category/weight-loss-slimming/" cat_bg="#ea3cb0″ grid_categories="weight-loss-slimming" grid_teasers_count="4″][/vc_column][/vc_row][vc_row][vc_column width="1/1″][vc_home_images_posts title="Domestic Violence & Abuse" title_link="https://www.sellusyourstory.com/news/category/domestic-violence-abuse/" cat_bg="#6e2b7c" grid_categories="domestic-violence-abuse" grid_teasers_count="4″][/vc_column][/vc_row][vc_row][vc_column width="1/1″][vc_home_masonry_posts title="Bizarre-shocking" title_link="https://www.sellusyourstory.com/news/category/bizarre-shocking/" cat_bg="#30a5ff" grid_categories="bizarre-shocking" grid_teasers_count="2″][/vc_column][/vc_row][vc_row][vc_column width="1/1″][vc_home_column_posts title="Wedding, Stag and Hen Stories" cat_bg="#FF0066″ grid_categories="wedding-stories" grid_teasers_count="5″ title_link="https://www.sellusyourstory.com/news/category/heartbreaking-heartwarming/"][/vc_column][/vc_row][vc_row][vc_column width="1/1″][vc_home_blog_posts title="Relationship Stories" title_link="https://www.sellusyourstory.com/news/category/relationship-stories/" cat_bg="#99e000″ grid_categories="relationship-stories" grid_teasers_count="3″][/vc_column][/vc_row][vc_row][vc_column width="1/1″][vc_home_images_posts title="Love Rats" title_link="https://www.sellusyourstory.com/news/category/love-rat-2/" cat_bg="#FFCC00″ grid_categories="love-rat-2″ grid_teasers_count="4″][/vc_column][/vc_row]