Want to sell a story to The Sun?
DO YOU HAVE A NEWS STORY TO SELL?
Every day SWNS fills the pages of all of the national newspapers and magazines. SWNS is the largest independent press agency in the UK. We are relied upon by all of the leading titles and television programmes to find the best news and stories.
Fill out the Story Valuation form on this page if you'd like us to get you the best deal possible from selling your story or picture to the Sun Newspaper.
Alternatively, if you may like us to get it into every publication too. If you'd like to contact the Sun, why not contact every newspaper at the same time? Either way, you're in the right place.
Sell My Story: Once you fill out the form on this page, our team will let you know what your story, video or photo is worth.
We will only use your story, video or picture once you are happy with the offer we get.
In addition we'll never print anything you send us until you have given your permission to print. Our service is free and there is no obligation.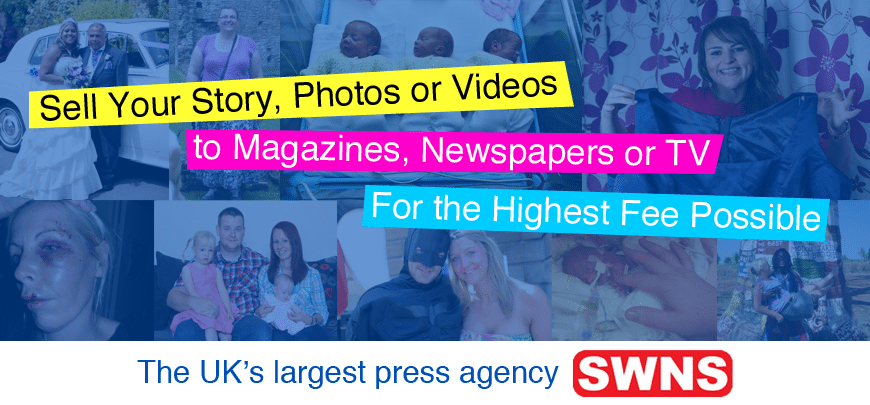 HOW WE GET YOU THE BEST FEE
SWNS is the largest and most established press agency in the UK.  For over 50 years we've been taking your stories to the press. There are two ways that we guarantee to get you the highest fee for your story. The method we use will depend on the nature of your story:
1) We sell your story exclusively via our Daily Story Auction.
2) We sell your story to every publication in the UK through our Newswire service.
Read more about how we guarantee you the most money for your story below…
AUCTION YOUR STORY TO THE HIGHEST BIDDER
Each day we auction people's stories to the highest bidding publication, which absolutely guarantees you're getting the highest fee possible. The winning bidder will buy the exclusive rights to your story or picture, so they are the only publication that can use it (until it has been printed and we can re-sell it for you).
After you've completed the short form on this page, we will get back to you with an estimated fee for your story so that you know what to expect.  If you're happy to proceed, we will place your story on the auction list. All publications bids against each other for the exclusive rights to your story. Please note that they pay for exclusivity, so you will get paid if your story truly is exclusive and hasn't been published elsewhere (so it's a good idea not to send it anywhere else).
Our service is free to you. The publications pay us separately for supplying them with stories, taking any relevant pictures, and for writing copy that they can trust.
SELL A STORY TO EVERY PUBLICATION
If your story is a breaking news story that needs to be printed as quickly as possible, we will send your story out via our 'Newswire' service (we use this method for selling pictures to the press too). This means that your story or picture is sent out via an automated system to every magazine and newspaper in the country. Magazines and newspapers will pay for what they use (i.e. the column inches that your story or picture takes up).
Putting your story out via the Newswire Service is also something to consider if there isn't any interest in your story via the Story Auction. Sometimes magazines will have more interest in your story if they have seen it in a few newspaper columns first.
We are happy to answer any questions you might have or provide any advice about the process if you're still not sure..
WE DON'T JUST SELL TO THE SUN NEWSPAPER….
SELL MY STORY WITH SWNS & SELLUSYOURSTORY.COM
Lots of people are often nervous about dealing with the press. It's understandable, but not all of us are the monsters that are portrayed on television. Our team are friendly and professional, and you will be in total control of your story. We rely on referrals and people coming back to us time after time. Our team always make sure that you're happy, which is why SWNS has the best reputation in the industry.
We would be more than happy to have a chat and answer any questions or concerns that you might have.
If you would like more information about how to sell a story to the press, please visit our Sell My Story to Every Publication page. Or if you would like information about SWNS and SellUsYourStory, please visit the About SWNS page.