Sell My Story to The Daily Mail

DO YOU HAVE A STORY TO SELL TO THE DAILY MAIL OR OTHER NEWSPAPERS & MAGAZINES?
Do you have a story to sell that would be perfect for the Daily Mail?  If so, you're in the right place.  Simply complete the quick submission form on the left side of this page, or give us a call, and we'll let you know if we can help you get your story sold.
Highest Payments Guaranteed
You Stay in Control
Free Service & No Obligation
SWNS is the largest press agency in the UK.  We've been supplying the Daily Mail and entire British press for over 50 years. We can place your story exclusively with the Daily Mail, or we can release it to the every national newspaper and magazine in the country, and overseas.  If you'd like to contact the Daily Mail, why not contact every newspaper at the same time? Every week we place hundreds of stories in the national press.
SWNS can send your story out to every publication via our News-wire and you'll get paid depending on the column inches that your story take up, or we can auction your story to the highest bidding publication for exclusive rights to your story.  We can advise you on which method would be more lucrative for you, or which will gain more exposure.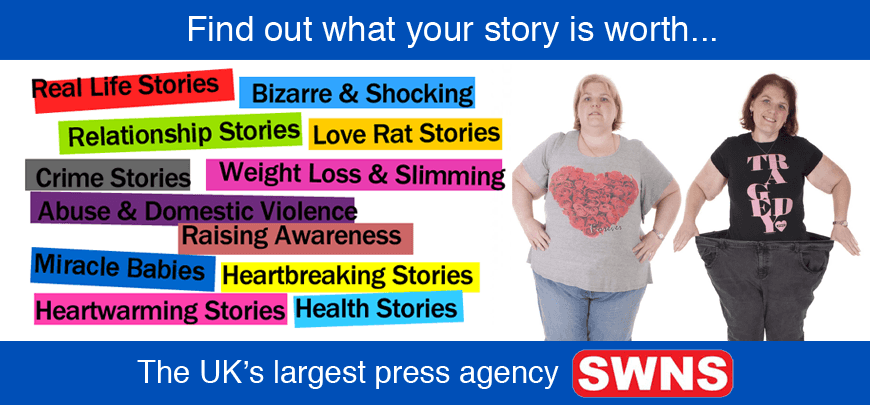 WHY GO THROUGH SWNS THAN DIRECT TO A PUBLICATION?
SWNS will act as your media agent to ensure that you are represented correctly.  Our service is free to you (we are paid by all UK publications for sourcing stories and writing copy), you'll keep 100% of your payment from the publication.
It is extremely difficult to get your story seen by the right person within any publication, but every single story that is sent to SWNS is read and considered carefully.
In addition, SWNS can sell your story to multiple publications and media outlets in one hit.  It is a fast track way to selling a story; there is no messing around, no wasted time, and we're here to ensure that you get the best deal.
You can find more information about selling a story to the national press on our Sell My Story page.
WE DON'T JUST PUBLISH DAILY MAIL STORIES….
SELL MY STORY WITH SWNS & SELLUSYOURSTORY.COM
Lots of people are often nervous about dealing with the press, but not all of us are the monsters that have been portrayed in the press recently. Our team are friendly and professional, and you will be in total control of your story. We rely on referrals and people coming back to us time after time, so we always make sure that you're happy, which is why SWNS has the best reputation in the industry.
We would be more than happy to have a chat and answer any questions or concerns that you might have.