The kids called me man-beast but now I'm a top plus size model
With a size 16 frame and 32JJ breasts, Sophia Adams is a far cry from the slender models that strut the cat walks.  But the wannabe model knew the odds were stacked up against her, with over 1,000 other women trying to nab the top spot for The Star in a Bra competition.
Despite her size 16 frame, her 13-and-a-half stone figure, and her large size 32 JJ breasts, Sophia was in it to win. The 5ft 3in bra fitter, come trainee police officer, had entered herself into the annual plus size modelling competition hosted by plus size underwear company Curvy Kate.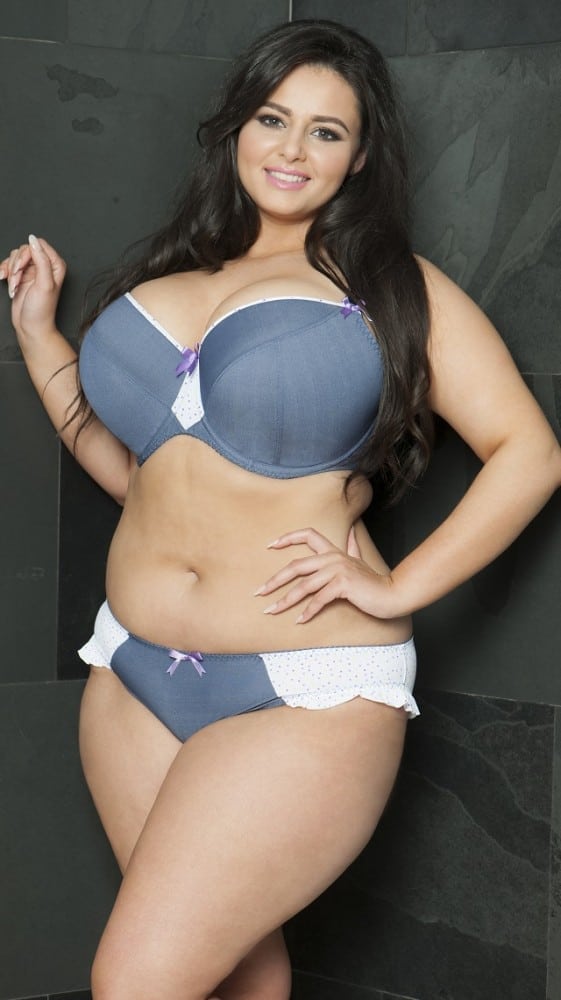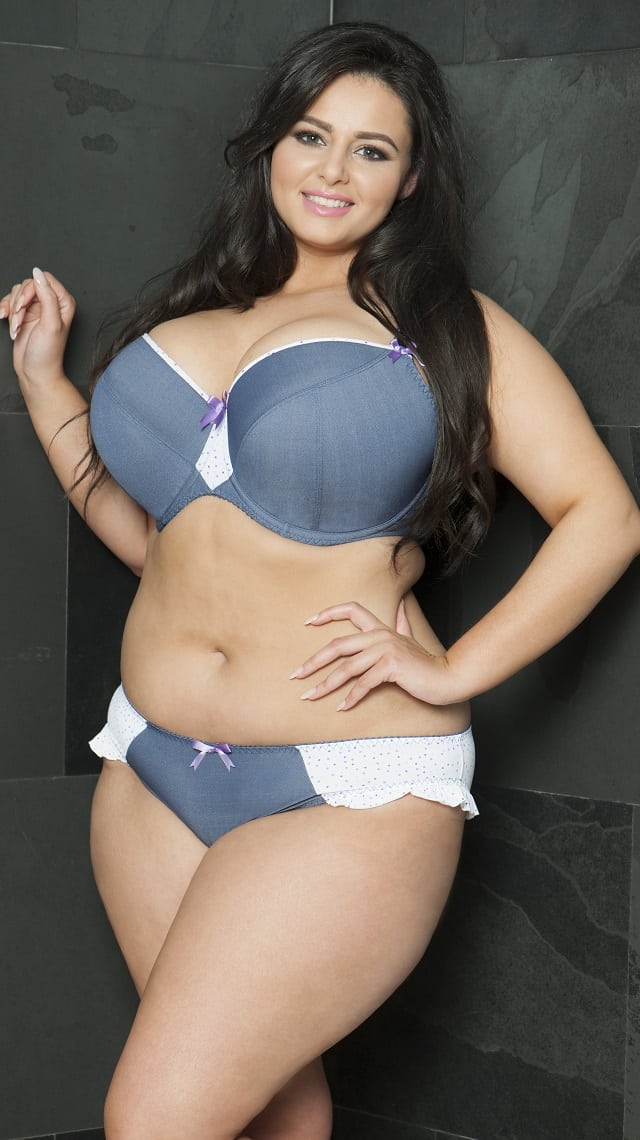 The competition seen her fight her corner in an attempt to win a year long underwear modelling contract. After being called, 'fat,' 'man beast,' 'whale' and 'big jugs,' Sophia decided to rebel against her not-so-model friendly figure at the age of just 21. And, much to her surprise, part Greek, part Iranian Sophia, managed to win the entire Star in a Bra, Curvy Kate modelling comp, to become a plus size underwear model.
Now she is forgoing a successful modelling career and has bagged a man who loves her sexy curves. Since winning the competition, Sophia has been inundated with offers from different modelling agencies, all wanting to snap her up. The 21-year-old from Northolt, West London said: "Judges told me I had a great face, but I was concerned I was too curvy to win the competition. Despite this, I didn't change my eating habits throughout the knock out stages and continued to eat what I normally would.
"There were girls in the competition with stunning curves, they had curvy bods but were still slim, I wasn't sure if I would be what they were looking for."But, when they announced that I had won, I didn't believe it, it was madness, it's still surreal, even now, I have to pinch myself. "I have always embraced my curves, but I felt so much bigger than the other girls I was competing against. I feel so much sexier now I have won the competition, I love my body and my larger breasts, just like Kim Kardashian does."
Throughout school, Sophia was always teased about her larger frame and bigger boobs. She says: "People in secondary school would call me 'big tits,' 'man beast,' 'whale', 'huge jugs,' and many other names. I'm normally a strong person, but the comments used to really upset me.
"It never made me want to lose weight, I would just eat more and more. I would try dieting but I like my food too much. I'm really healthy with what I choose to eat, plus, my figure is so prominent because I'm so short and my boobs are huge!
"In little school I would get left out of a lot of games, the children would say things like, 'it's a two person game,' and similar childish remarks, they'll call me fatty and tubby – they didn't know how much their words used to hurt me.
"When I was younger, I was always really podgy, and since the age of five, I was left out of games in school because of my size, but now, it's my time. I have finally bounced back from the bullies remarks and fully embrace my curves and larger breasts.
But, despite Sophia's new found confidence about her body, she's not always loved being the bigger girl.
Sophia says: "When I was older, I would look in envy at the skinny girls throughout school, and then at the age of 9, when my breasts started to develop, there was no chance I would ever be one of them – they were just too big.
"After leaving school and becoming a bra fitter for Curvy Kate, some of my friends said I should enter the competition. But I was unsure, I never thought I would get through the first round, especially growing up with all the horrible remarks."
Sophia still catches people, and sometimes even females, glimpsing at her breasts and curvier frame, and still, despite her age, gets wolf whistled at by men and disgusted looks from women a lot of the time.
Sophia says: "Despite all the negative stares and comments I have had in the past, I had a thirst to prove something to myself. Sometimes I think women look in envy as my confidence is always shining through, and sometimes I think they look at me because I'm a curvier girl.
"My friends encouraged me to get into the modelling side of things for Curvy Kate, and when I got through the first knock out stage I was shocked.
"I realised they picked me because they liked my curvy figure and fuller breasts, I was thinking of cutting some things from diet before, but I didn't bother. "I continued eating the Mediterranean food I adored and lots of fish and fresh vegetables with the occasional sugary snacks, why stop the diet I love, I was put through to the next round for a reason.
"A few weeks later, it was the second round of the knock outs and much to my surprise, I got taken through again, I couldn't believe that the judges loved my body, and after all those years of being called big tits and whale, I was getting praised for my curvier shape."
Sophia has had more than five-years of support from her boyfriend Adrian Antonie, (Doesn't want his age to be told), a council tax worker, who loves her womanly curves and larger breasts. Sophia says: "Adrian's been great about my body and boobs since the day I met him, he's so supportive and my biggest fan. He always says if I were stick thin like the models in the magazines and on the television, he wouldn't be attracted to me. He still boosts my confidence every time I see him.
"He also encouraged me to enter the competition in the first place, along with my friends. He's been my rock throughout the whole process, always being so positive about my body and the competition.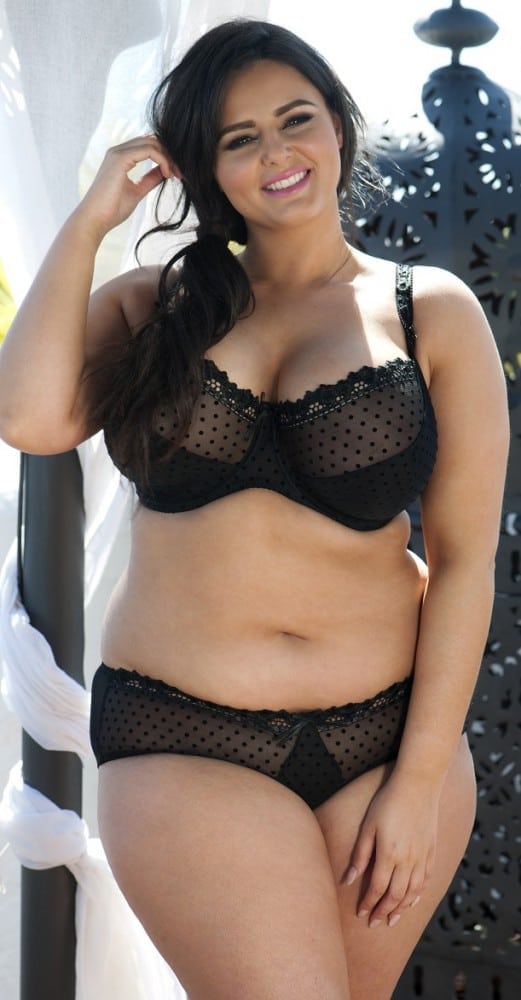 "I'm not massively big on exercise, I do little bits here and there. I try to run for 20mins almost every day. I do some stretches, sit ups, push ups and squats at home a few days a week as well.  "I love my Mediterranean food! Breakfast is usually cereal, toast or a cheeky cooked breakfast. Lunch and dinner will mostly be my mum or dads cooking so anything Iranian or Greek.
"It's amazing how many photographers and agencies, magazines and broachers want to book me for a shoot, I'm always so busy. It's such fun. The Curvy Kate competition celebrates all shapes and sizes, but only accepts women who wear a size 12 and sport a D cup in a bra. Sophia explains: "Eventually I was narrowed down in the top 25 by the judges, then the top 10 by a voting system, then going on votes, the winner was announced.
"I still can't believe I won it, I still have to pinch myself all the time. When my PR Company ring me up and say I've been booked for a different shoot every day of the week, it's a dream come true. "Now I've won, I hope all the nasty horrible bullies flick through the magazine broachers and see me. I'll always have the last laugh now I'm a plus size model.
Sophia is determined not to let her yearlong modelling contract interfere with her police studies, being a police officer is till Sophia's dream and modelling is just a successful skipping stone along the way.
Chantelle Crabb – PR and Marketing Executive at Curvy Kate said: "We are all about creating beautiful lingerie designed for the fuller bust but also about instilling body-confidence into our customers, preaching that there isn't one type of perfect and that in well-fitting lingerie anyone can look and feel amazing.
"Our Star in a Bra competition not only give our customers the chance to be the face of our brand but also helps to show how our lingerie will look on figures like theirs. "We're a fuller bust brand so it only make sense that we show our products on fuller busted girls, hence why Sophia Adams is such a worthy winner and such a wonderful model to showcase our products on."
---
Do you have an inspirational story you'd like to sell to a magazine?
At SellUsYourStory.com, the UK's largest independent press agency, we want to hear your stories whether they are important awareness raising issues, inspirational stories to help those in a similar situation, or lighthearted true tales guaranteed to raise a smile.
We helped Sophia sell her story exclusively to Reveal magazine. Reveal Magazine were the highest bidders in our daily story auction and won the rights to print Sophia's story exclusively.
If you have a story that you believe would make a good magazine feature and would like us to auction it to the highest bidder for you, complete our STORY VALUATION form on this page and we'll let you know how much your story is worth.
There is no obligation and we'll only use what you send us for valuation purposes until you tell us otherwise (you only need to provide the basic outline of what happened for now).  We guarantee to get you the most money for your story and our service is completely free, so what are you waiting for?
To read more about how to sell a real life story to a magazine, see our Sell My Story page.
---
See a few stories from some of our recent clients…
[vc_row][vc_column width="1/1″][vc_home_blog_posts title="Some recent client stories" title_link="https://www.sellusyourstory.com/news/category/real-life-story/" cat_bg="#98f000″ grid_categories="real-life-story" grid_teasers_count="6″][/vc_column][/vc_row]