Ruth refused to let her 30 k boobs take over her big day with a big breasted wedding (BBW)
At SellUsYourStory.com we don't just write the front page news for the national magazines and newspapers, we also publish stories about normal people and their everyday problems, issues and causes.  Get in touch today to find out if we can pay you to share your story.  On this page you'll see our recent client Ruth speaking about her battle to not let her 30 k breasts upstage her wedding day, desperate not to just be a big boobed bride.
As I looked at my wedding dress I felt like all my dreams had come true. "This is the one," I gasped to my mum, Christine, 62. it was a beautiful ivory-pleated strapless satin dress. But as I stepped into the soft elegant gown to try it on for the first time, my dreams shattered.
"Ugh, I knew it! It's never going up past my boobs," I said. "Show me anything with straps, sleeves and halter necks," I begged, wriggling out of the dress. I was due to get married to the love of my life, Marc Chester-Lees, 30, in August, but I knew finding a dress to suite my frame would be challenging.
I'm only 5ft 4inch tall, wear a size 16 in clothes, and my size 30-K breasts weigh five kilos – the same as the maximum hand luggage allowance on planes. "It's okay, Ruth," mum said.
"It's not though, is it? Why can I never find anything to fit my figure? I can find other people perfectly fitting clothes, it's my job!" As I was a garment technician from Manchester, my job was to find suitable clothing for the larger woman.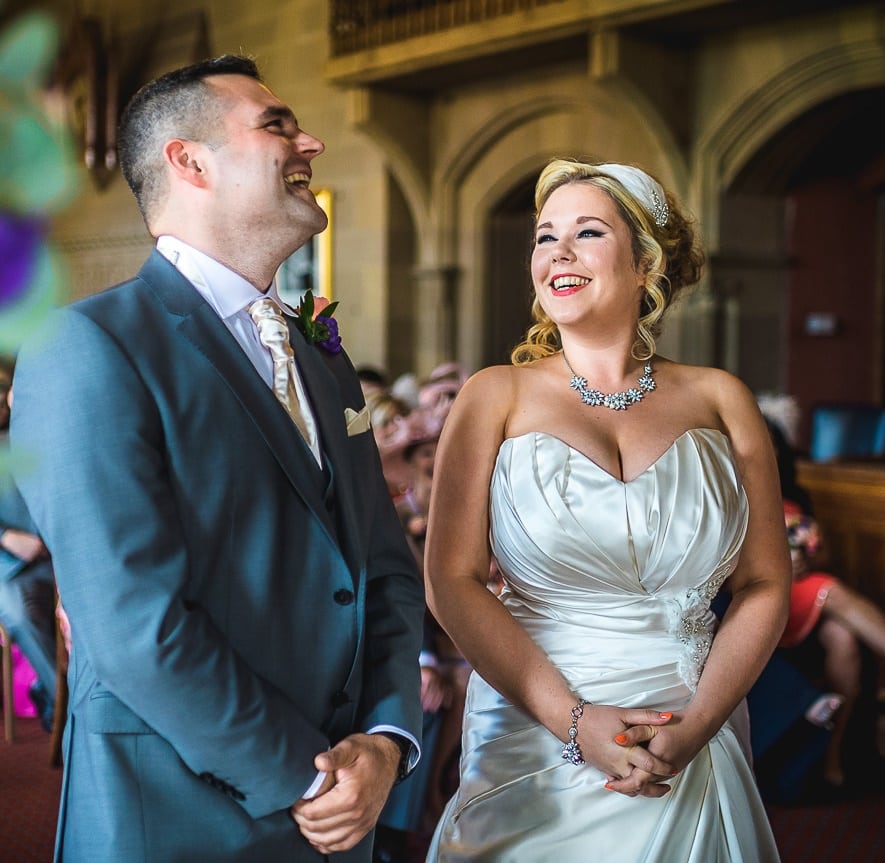 I was great at my job too, so I was determined not to let the dress beat me. When I was just 11 my breasts started to develop. They finally stopped growing six years later at the age of 17. I had to give up my love of tap dancing that I practiced for over 10 years as the sheer weight of my boobs played havoc on my shoulders, neck and back.
I always have to think twice before I buy any form of clothing in case it doesn't fit or if there's a chance I could accidently spill out of it. "Mum, remember when I was younger and I cried because my chest was so flat, it couldn't fill the boob holes in that lovely blue dress," I said.
She gave a little laugh, "Yes I remember darling." I shook my head, "Typical, now it's the other way around," I said. I picked myself up and took a deep breath.
"I want this one," I pleaded to the lady who owned the bridal dress shop, "but it doesn't fit around my boobs. I knew a strapless bra would be useless for my day job, and I didn't want to wear see-through straps. I was at a total loss. "I know the perfect seamstress," the owner said.
"We can get the top of the dress altered out. The seamstress, Marie, will make it her personal mission so that you can walk down the aisle supported in your beautiful dress." Her words almost made me cry, I was breaking all the rules, but I was determined to walk down the aisle in a strapless dress.
Some friends of mine suggested a new generation of bra: 'the Luxe bra,' from the Curvy Kate range. My mind went wild with excitement. Imagine if the bra supported me, along with Marie working her magic on my dress, I would finally be walking down the aisle in my dream gown.
"It's here!" I screamed to my mum when my new bra arrived in the post a few days later. I ripped open the packaging and there it was, the bra that would make all my dreams come true. It was slightly padded, had bones at the front, sides and bottom and it matched my skin tone perfectly.
"This is the bra you've been waiting 14 years for isn't it?" mum replied. I felt supported for the first time ever, and much to my surprise my boobs didn't decide to make a surprise appearance. Now I waited in anticipation as Marie, the miracle worker seamstress finished my dress.
Nearly an entire year and countless fittings later, my phone to started to ring. I answered with quivering hands, I knew it was the bridal shop. "It's ready," the owner said, delighted. My mum and I raced to the shop. I already had my bra on and we had everything crossed that the dress would fit.
As I stepped into it, it felt perfect. As it passed over my boobs, I smiled and when it fastened into place with the lace straps at the back, my face lit up. "It's beautiful," I said, admiring the work. "You look perfect," mum said.
I was finally able to walk down the aisle full of confidence and feeling supported in a strapless dress, despite my size 30-K breasts. All my dreams had come true, especially when I saw Marc waiting at the end of the aisle.
---
At SellUsYourStory.com we don't just publish hard-hitting front page news.  We also write everyday stories about everyday people, facing normal problems and issues that affect others people too.  If you would like to tell us your story, just use the story valuation form on this page and we'll let you know if it could be used for one of our features, and how much we can pay you.
To read more about how to sell a story to the national press, see our Sell My Story page: Sell My Story to a Newspaper or Magazine
[vc_row][vc_column width="1/1″][vc_column width="1/1″][vc_home_blog_posts title="Recent Wedding Stories" title_link="https://www.sellusyourstory.com/news/category/wedding-stories/" cat_bg="#99e000″ grid_categories="wedding-stories" grid_teasers_count="7″][/vc_column][/vc_row]