TERROR IN PARADISE
A BRAVE BOYFRIEND TOLD YESTERDAY HOW HE COULD FEEL HIS LIFE SLIPPING AWAY AFTER BEING STABBED IN THE HEAD WITH A MACHETE TRYING TO SAVE HIS GIRLFRIEND FROM A GANG SEX ATTACK IN THE IDYLLIC BEACH RESORT OF KRABI, THAILAND.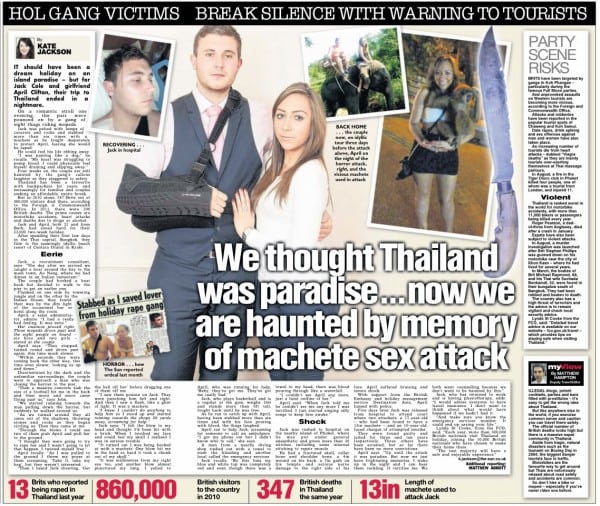 Jack Cole, 21, suffered more than six knife wounds, including one to the head, in the savage attack after he and his girlfriend, April Clifton, 21, were set upon by eight thugs on mopeds.
Feeling his body getting colder and his vision rapidly fading, Jack recalls his heart beating like he was being punched in the chest as it struggled to pump blood around his body.
Luckily, paramedics arrived just as April began to fear the worst.
Jack said: "It was a calculated attack – they didn't care about money. It was April they were interested in.
"And being a protective boyfriend I thought they were going to try and rape her and I wasn't going to let that happen.
"I felt the blow to my head, and thought I'd been hit with a brick. It was only when I touched my face and could feel my skull that I realised I was in serious trouble.
"I yelled to April, who was running for help, 'baby, they've got me. They've got me really bad.'"
The couple from Bath had spent months saving for their dream getaway: a week and a half of sun, sea, relaxation and pampering at the exclusive Centara Grand Beach Resort Hotel.
They spent the first few days of their holiday in Bangkok before catching a plane south to an area of Thailand made famous by the movie, The Beach.
"The day after we arrived we caught a boat around the bay to the main town, Ao Nang, where we had dinner in an Italian restaurant before making our way back," said Jack, a recruitment consultant.
"We had booked the boat back for 11.30pm, but at 10pm we decided to try to get the earlier boat.
"Thinking it only took five minutes in the tuk-tuk we decided to walk to the pier but we soon realised it was much further."
Flanked on one side by a towering jungle and on the other by the Indian Ocean, the couple stuck to what little light there was coming from the odd bar or hotel.
April, a sales administrator, said: "I had a really bad feeling on the way back. My gut was telling me that if anything happened here, nobody would know – it was really eerie.
"Then from behind us, three mopeds with eight people on, six boys and two girls, drove passed and stared at us.
"They stopped in the road ahead and then turned around and drove passed us again, this time much slower.
"I said to Jack, 'just put your head down and keep walking'.
"But within seconds they were coming back the other way, this time even slower, looking us up and down and driving towards the pier. It was really quite scary.
Disorientated, the couple approached a man who was closing the barrier to the pier.
"But as soon as we started towards him, the attack started," said Jack
"A massive concrete slab the size of a football hit me in the back and then more and more came flying passed us.
"We started running towards the man pulling down the barrier thinking he was a guard, but suddenly he walked around us.
"As we turned around they all came out of the shadows, throwing stones and rocks, as they began circling us."
The guard was in the attack too.
"We were barricaded in. They were circling us and then they just came at me," said Jack.
"Through the blows I could see two of them grab April and pull her to the ground. Being a bloke, I thought to myself, 'I can't let this happen' and twisted myself free. I would have done anything to protect her."
April said: "As I was pulled to the ground I threw my purse at them screaming, 'take it, take my bag', but they weren't interested.
"Then I heard Jack shouting, 'Get the hell off her' before dragging one of them off me, before I fell to the floor.
"When I turned around, I saw them pounce on Jack. They were punching him left and right. And then I saw a flash, like a glint of light. It was a machete.
"They were shouting at him. 'Come on, come on'.
"I knew I couldn't do anything to help him so I stood up and started running towards the shops 50 yards away, screaming for help."
Jack, who plays basketball and is a regular at the gym, weighs 16 stone and stands over 6ft tall fought back until he was free.
"I thought I was being punched with a brick, but it turned out I was being hacked at with a machete. One blow hit me in the head so hard it took a chunk out of my skull."
"It was millimetres from my right eye too, and another blow almost punctured my lung."
As he ran to catch up with April, his hand covering his face which was by now pouring with blood, the gang of thugs who had cackled with laughter during the attack fled on their bikes.
"I turned around to see Jack running toward me," said April. "He was covered in blood. He had his hand to his face and he shouted to me, 'baby, they've got me. They've hurt me really bad'.
"He showed me his face and I can remember thinking, 'Oh my God – that is so bad'. I could see his skull and he was covered in blood.
"I got my phone out and it was the worst feeling in the world. I didn't know who to call. I didn't know the emergency services number. I didn't know what to do."
April ran to help Jack screaming for someone to call an ambulance.
Jack said: "A man from the dive shop came out to help us and brought out a towel to jam into my head.
"By this time my blue and white top was completely red and even though there was towel to my head, there was still blood pouring through like a waterfall."
Wounds on Jack's upper torso and shoulder were bleeding heavily and putting enormous strain on his heart.
The 'punches' he had taken were from a 13-inch machete and he had been stabbed in the back, in his chest and arms.
"I was panting like a dog," said Jack. "I couldn't see April anymore, just a faint outline of her, and I could feel myself draining away.
"I don't know what the outcome would have been if we'd had to wait any longer for the ambulance.
"But it probably wouldn't have been very good for me, that's for sure."
As the couple waited for the emergency services, April sang to Jack to keep him awake.
"I knew I had to be brave," said April. "When Jack told me he couldn't see me anymore, I was terrified. I just started singing silly songs to keep him awake."
Within minutes the emergency services arrived and stopped the flow of blood before Jack was rushed to hospital in nearby Phuket where he was put under general anaesthetic.
He had suffered a fractured skull, fractured collar bone and fractured shoulder bone, a four inch wound on his back and a 7" gash on his temple. He has suffered serious nerve damage to the right hand side of his face.
He needed more than 30 stitches including some internal stitching to repair his muscle. April had suffered bruising and severe shock.
With support from the British Embassy and holiday management services, Destination Asia, April was able to liaise with the police and the tourist police, providing statements and evidence.
Meanwhile April's father, Clive Clifton, had flown out to Thailand to support the traumatised couple, who had been transferred to the Centara's sister resort in Phuket.
Five days later Jack was released from hospital to attend court where two of the attackers, a 17 and 18-year-old, faced charges of attempted murder.
A 13-inch machete was found on the 17-year-old.
Jack and April attended court where they watched two of their attackers laugh as they were jailed for 3 and 10 years.
Three more people have been arrested in connection with the attacks, but so far, there have been no more convictions.
"Everyone in Thailand was really nice, which make it even worse and so sad", said April. "Up until the attack it was paradise. I have never been anywhere as amazing as that.
"The first day we arrived we said were going to come for every anniversary, every birthday. It was our special place.
"But now it's so gutting, because it was perfect and now we just have frightening memories."
Jack said: "I would go back, but I would go with another couple. I certainly wouldn't go back just the two of us. I wouldn't feel safe.
"I would advise everyone to have travel insurance. I don't want to think about what would have happened if we didn't have any. And make sure you know the emergency services number. It could end up saving your life.
Jack is back at work and having physiotherapy and April has just begun a new job, but the couple are still suffering from the attack.
April said: "I wake up in the night and whatever I've been dreaming about, even if it's shopping, I can hear them cackling. It terrifies me.
"We both want counseling because we don't want to be haunted by this for the rest of our lives. We just want to get on with life."
ENDS