How to Contact the Daily Mail
Find out how to contact the Daily Mail if you have a story, photo or video to sell
SellUsYourStory.com is part the UK's largest independent news agency. Sell a story, video or images right now. If you want to contact the Daily Mail, or any other publication, get in touch.
We supply stories, images and video to all the national newspapers – including the Daily Mail.
Our service wont cost you a penny and we ensure that you won't be misrepresented. Whatsmore, we guarantee to get you the highest payments available for your story, video or photos.
Simply fill in the form on this page with some brief details about your story, photo or video. Next, we'll will get back to you with a valuation..
Nothing will ever be used without your permission. We're here to help get you the best deal for your story. Our unrivalled contacts and reach mean we can get the most for your story. Our agency provides up to 20% of ALL the stories you see in the major newspapers.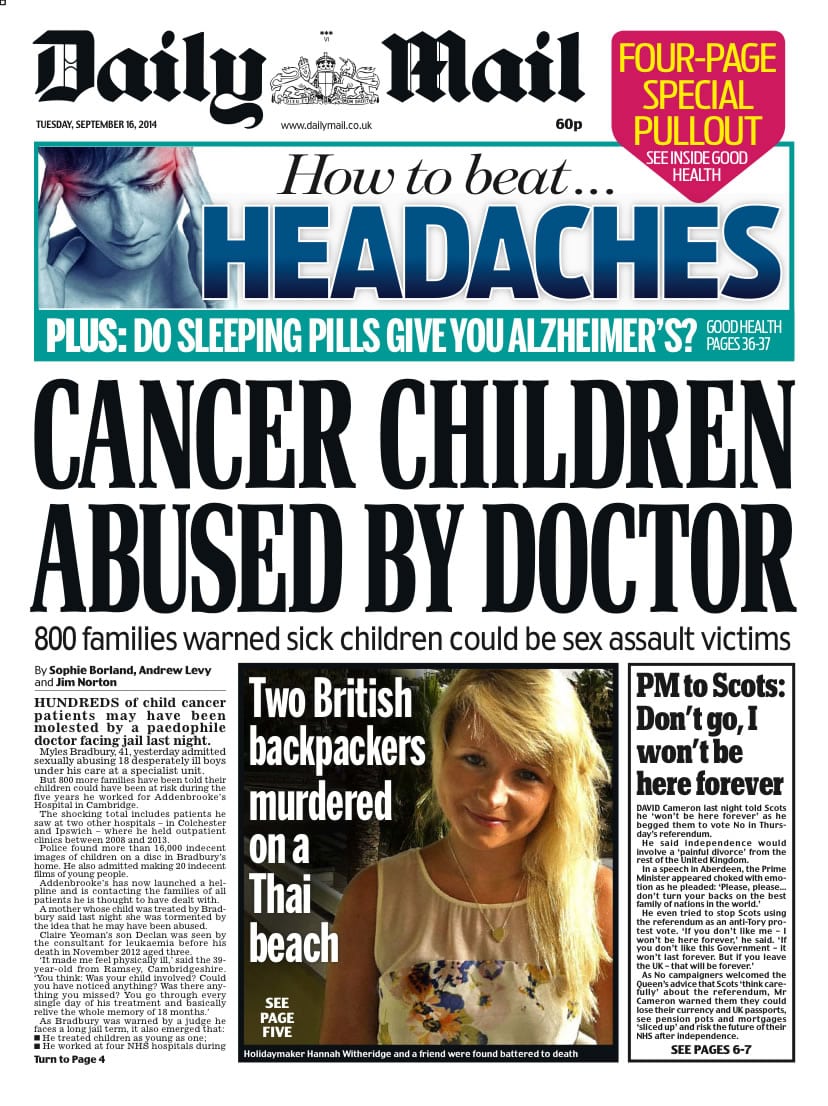 How do we work?
We sell stories to all the national newspapers, women's magazines and also TV programmes like Good Morning Britain and This Morning. We also sell content to all major international publications.
SWNS is the largest independent press agency in the country. When you fill in the form with a few details about your story, video or photo, it will be delivered to our team of highly trained journalists.
We will get back in touch with you if we think your story, photo or video could earn you money. We'll provide a valuation based on the sales of recent stories, images or videos.
Once you are happy, and with your permission, we will get in touch with the newspapers, magazines or TV companies and negotiate a deal for your story.
We have contacts at every single newspaper and major media outlet, so we will take all the pressure off you.
If any reporters want more information they will get in touch with us instead of hassling you. You will have one point of contact at SellUsYourStory.com to help you tell your story in your way.
Should I contact the Daily Mail directly?
If your Daily Mail enquiry involves something other than selling your story, photo or video, you can reach the publication directly on their website.
You can also contact them directly to sell a story, photo or video. However we know that it can be very daunting telling or selling your story directly to a newspaper.
Our service works for everyone. Newspapers like the Daily Mail rely on us to supply news and features every day. We package and write the content precisely to fit with their publication. In addition, clients opt to work with us so that we can look after their best interests and protect them from being misrepresented.
By getting in touch with us we can contact the Daily Mail on your behalf – but also all other national newspapers (if you choose).
By leaving it to us, we can keep you in the loop every step of the way, but you won't be hassled our hounded by any other journalists.
Using our cutting-edge technology, developed in partnership with Google, we track anyone using your material to make sure that you are paid fairly.
What kind of stories, images and videos do you publish?
We contact the Daily Mail with our stories every single day.
Like us, they love a variety of stories. Get in touch with us if you think you have a story the Daily Mail or other papers would like to publish.
We contact the Daily Mail with two kinds of stories.
1) Exclusive Stories.
This means they will appear in ONE newspaper first.
We will secure an exclusive one-off fee.
2) Newswire Stories.
This is where our stories go to the Daily Mail and ALL the other newspapers and websites at the same time.
As such, you'll be paid for the column inches that it takes up, or the size, quality and page that the pictures appear on.
We will make sure that every newspaper that uses your story pays for it.
Daily Mail Story – Case Study
We supply hundreds of stories to the Daily Mail and other publications each week. Here's just one example:
Recently we got in contact with the Daily Mail about autistic schoolboy Hayden Geraghty, aged seven, who couldn't talk.
Amazingly he found his voice when he watched Major Tim Peake travel into space – and it inspired an incredible passion for space.
His mother Caroline got in touch with us because she was so proud of Hayden – but wanted to make sure the story was handled properly and sensitively. In addition we ensured Caroline and Hayden received the highest fee possible.
What should I do now?
Fill in the form on this page and we can get started.
First and foremost, there is no pressure to proceed any further. We will simply give you an estimate of what your story is worth.
You can walk away or proceed, in which case we will talk you through the process. We make everything easy and stress free. We can answer any questions and give you some advice on your next move.
Our service won't cost you a penny and we guarantee to get you the highest fee for your story, video or pictures.
You can call us on 0117 9066 5000 or email story@swns.com. In addition you can find other ways to contact us here.
For more information about how to sell a story to the Daily Mail, or other newspapers and media outlets, see our Sell My Story page. You can also find other information about how to contact The Sun newspaper, how to contact the Daily Mirror, as well as many other publications like Take a Break magazine or This Morning.