Have you always wanted to be on This Morning? Then you have come to the right place!
Fill in the form on the right side of this page and tell us a little bit about your story and why you would like to be on This Morning.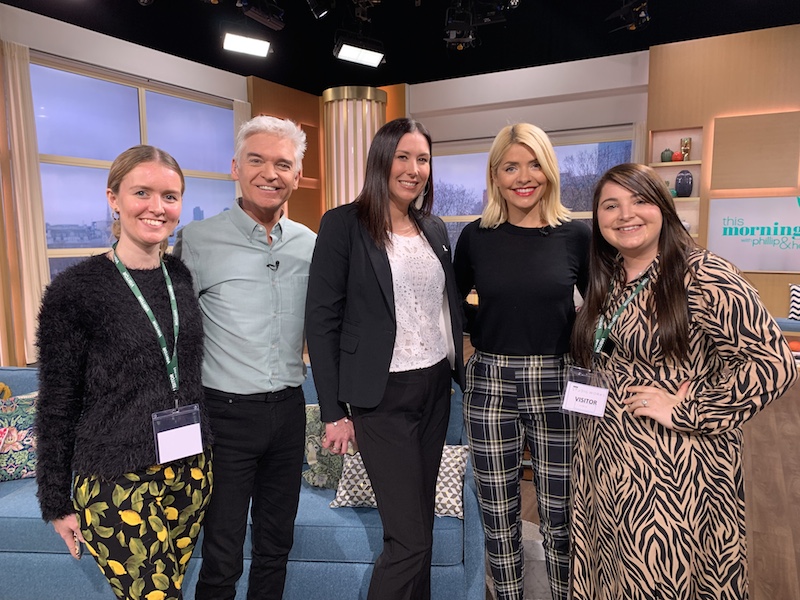 We are the UK's largest press agency and place stories in the national newspapers like The Sun, The Mirror and The Mail every single day. We also have a great relationship with the producers at This Morning, helping fill the show with amazing stories and features. They love to hear from us about people who would like to feature on the show.
So if you have an amazing, quirky, sad or funny story to tell, then get in touch today. You could end up being on the sofa sat next to Phillip Schofield and Holly Willoughby – in front of more than a million viewers.
Why contact us?
It can be pretty nerve racking approaching the press – so that's where we come in! We take the stress out of the experience.
We will also make sure that you are treated and paid fairly.
Every day thousands of people contact the programme and it can be hard to get noticed.  We have great contacts in the industry to help get your story out there.
What sort of stories mean I can be on This Morning?
We like all sort of stories.  If you could see your story on This Morning then get in touch with us.
Animal-lover Helen Motteram spoke to us about her cheeky pet rook called Russell Crow. The troublesome bird sleeps in her room, hides her credit cards and jewellery – and is even jealous of her husband.
We arranged to her to appear in the newspapers, magazines and also to be on This Morning.  Of course Russell went on the show too!
Not sure about whether you want to be on This Morning?
If you're not sure whether or not you want to be on This Morning, or you are just thinking about it, don't worry.  Give us a call and we can chat through your options.
We are experts in story telling and we can talk you through the process of what it is like to be on This Morning so you can make an informed decision.
Have a chat with us and you are under no obligation to proceed with your story.
Will I get paid to be on This Morning?
Yes of course!  We command the best fees in the industry and make sure all our storytellers are paid a fair amount for their time.
Also, if you end up being on This Morning we make sure that you are reimbursed for your travel costs.  We often help arrange transport and hotels for our clients.
How can I get in touch?
Fill in the form to the right of this page with some details about your story.
You can also call our newsdesk directly on 0117 9066 505 or feel free to email us on story@swns.com
More information
If you would like more information about how to sell a story, video or photo to the national media, you can read more on our Sell My Story page.
If you are trying to submit a vide or photo to but are having difficulty, you can always upload them via our dedicated Sell My Video or Sell My Photo sites, where you will find a bulk upload tool to make sending us those large files a little easier: