Have you been injured in an accident or incident?  If you would like to sell an story and pictures to a magazine or newspaper, you're in the right place.
SWNS is the largest press agency in the UK.  We pay higher fees for your photos and stories than anyone else.  Every year we provide the media with 100s of injury and accident stories.
What Sells
It goes without saying that the better the pictures, the more your story will command in terms of fees.  You can read more about how we sell pictures and stories to the national press here.  However, in short we auction your story and pictures to the highest paying publication and you keep all of the fee (magazines pay us separately for using our content).
We will consider any true story but when it comes to injuries, accidents and incidents, we are very interested in the following:
Freak accidents;
Unusual or rare incidents;
Injury stories, especially if your injury is severe or shocking;
Good photos to go with your story (before, during and after photos if possible).
How to Sell an Injury Story to a Magazine or Newspaper
If you have an injury story with good photos, you can send them to us at: story@swns.com.  We'll get straight back to you to let you know what your story is worth.
Don't worry, we cannot sell or publish your photos or story until you've agreed to the fee and signed an agreement.
If you don't want to send us the photos straight away, just fill our the form on the right hand side of this page and tell us what happened.
We will pitch your story to every national publication in the UK (or specific ones if you have a preference).  It will be auctioned to the highest bidder (in return for exclusive rights to your story) to ensure that you get the highest fee.
Once you agree to the fee, your story will be published and you'll get paid.  Following publication of your story by the publication that purchased exclusive rights to your story, we can re-sell it to all other magazines and newspapers so you'll make even more cash.
Why Sell an Injury Story to a Magazine or Newspaper
You may be wondering if you should sell your injury story to a magazine or newspaper?  Some people tell us that they are not sure whether to do it or not. Generally, people are extremely interested in reading about accidents and incidents and magazines love to use shocking pictures.  However, apart from being inquisitive, many accident, incident, or injury stories can act as a warning to other people. SWNS and the publications we contribute to receive hundreds of letters every year describing how accidents were avoided after reading about similar situations in the press.
In addition, you've probably been through a horrific, horrifying or traumatising experience.  Getting paid to tell us about it means that something positive can come out of your experience, even if it just means a few extra quid in your pocket, or enough to take a holiday.
Furthermore, lots of people say that selling their story helped them come to terms with what happened, and many even find the experience extremely fun.  Having a magazine article can be a nice keepsake or reference to show friends and family in the future.
Selling Other Stories to the Press
SWNS supply 100s of stories, pictures and videos to the press every day.  Much of the content you see in the news each day comes from SWNS.  We will consider any story that could make an interesting news story or feature.
To read more about how to sell a story to the press, please click here.
Lot's of people who we talk to are nervous about dealing with the press, or are worried that they will not get the maximum fee possible.  Read our blog post about how not to get ripped off when selling a story.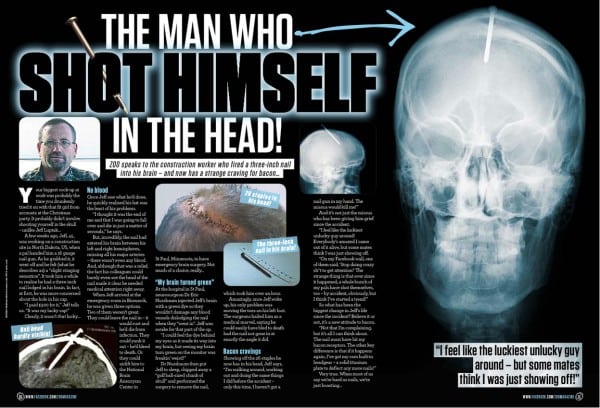 Useful Pages