Sell your weight loss before and after pictures to a magazine
Would you like to sell your weight loss before and after pictures to a magazine? Want to inspire others or celebrate your success?
If you have been through an incredible weight loss transformation or have any other story you'd like to share, get in touch today.
We'll like to help you tell your story. Get paid the maximum fee possible and help others who want to turn their life around and start their weight loss journey.
Donna sold her weight loss before and after pictures
SellUsYourStory.com is part of SWNS, the UK's largest independent press agency. Each year we help hundreds of people share their wight loss and slimming stories. Recently we helped Donna Shaw share her inspirational tale after she sent us her weight loss before and after pictures.
She was heartbroken when her daughter tried to give her a cuddle but couldn't find her arms around her "fat tummy". Donna decided to turn her life around, changing her diet and losing an impressive 8st.
Donna's story appeared in the Sun newspaper as an exclusive.
She was invited to a photo shoot in the Sun's London studio with a hair and make up artist and stylist to have great pictures taken which showed off her new slim frame.
The story then went out on our news wire and was picked up by other newspapers afterwards.
Donna's amazing weight loss story
Donna Shaw broke down in tears when her eight-year-old daughter tried to give her a cuddle but couldn't fit her arms around her "fat tummy".
The 31-year-old mum of two, who is 5 ft 6, tipped the scales at 18st 2lb and was a size 24.
She had piled on the pounds whilst in a comfortable relationship where she would binge on 4000 calories a day – gorging on whole loaves bread, chocolate, cheese and fizzy drinks.
But since daughter Emily called her fat, Donna has shed a whopping eight stone through diet and exercise and now fits into a svelte size 10 to 12 – and perfectly into her daughter's arms.
Donna, who lives alone with daughters Emily, eight, and Holly, five, and in Coatbridge, Scotland, says: "I was mortified when Emily couldn't cuddle me because of 'Mummy's fat tummy'.
Mummy's fat tummy
"I went bright red and had to go to the next room to take a few deep breaths so that Emily wouldn't know I was upset. She's only eight so she had no idea her words would hurt me.
"It was the kick start I needed to do something once and for all about my weight.
"I knew I had done well when Emily came up to me and said 'Mum, you're not fat anymore.' She was so proud and gave me a cuddle – fitting her arms the whole way around me this time."
Donna had always been the big kid at school but it was during a relationship with her children's dad and after giving birth to Emily and Holly that her weight peaked.
She says: "I was always the big kid at school, but I didn't bother me.
"I was a bubbly person and got on with everyone, it was only in my late teens when I struggled dress shopping for nights out that my weight really started to get to me.
Crash diet
"I went on a crash diet when I was 17, eating only beans and toast until I lost a stone and ended up a size 14.
"As soon as I started dating my ex-partner, all the weight went back on – and more.
"I was very comfortable in the relationship and we loved nothing more than grabbing a takeaway or going for a meal out.
"After giving birth to Emily, I was big, but after having Holly, I was at my biggest.
"I was knocking back 4000 calories a day and I never worked out.
"In an average day, I'd skip breakfast, grab a burger and chips for lunch and a greasy Chinese for dinner.  In between, I would gorge on starchy junk food like cheesy chips and guzzle sugary cans of coke."
By 27 years old Donna weighed 18st 2lb and struggled to squeeze into a pair of 24 jeans. Her weight started to cause problems when she was out in public.
Too fat to get on a Thorpe Park ride
The former ASDA checkout operator says: "A few years ago, I was at Thorpe Park when I was asked to get off of a ride.
"The operator wasn't subtle – he shouted in front of the whole line that I was too big to close the safety bar and I had to get off.
"Another time I was planning a charity skydive. I filled out the application and started telling everyone about it, even taking donations.
"Then the skydiving company got back to me and said I couldn't go ahead with the dive because I was over the maximum weight limit of 14st 7lb – by nearly four stone.
"I was too embarrassed to tell everyone what happened, so I said it was cancelled because of poor weather."
Wake up call
In 2014, the biggest wakeup call Donna could ever receive came when Emily called her fat.
Donna says: "Holly came into the room and tried to give me a hug. But couldn't fit her small arms around my waist. She laughed and said 'Mummy, I can't fit my arms around your fat cuddle tummy.
"I had to leave the room. It was the most heart-breaking moment of my life."
Donna signed up to Cambridge Weight Plan and started exercising in her living room. Within six months she had slashed her dress size in half to a 12 and dropped eight stones.
She says: "My friends noticed the changes before I did but I was feeling better and sleeping better. Furthermore, I had so much more energy.
"I missed bread and chocolate but would stay motivated by thinking about my girls and what it would be like to be able to run alongside them in the park instead of watching from the bench.
"I started doing squats, triceps dips and push ups in my living room to keep fit.
New relationship
Donna, who now weighs 10st 2lb and fits into a size 10 to 12 has managed to keep the weight off, despite being in a long-term relationship with graphic designer Andrew, 35, for a year.
Donna, who has now retrained as a Cambridge Weight Loss Consultant, says: "I had to reteach myself about food, and now I home cook everything and won't eat anything that's not fresh.
"I make sure not to eat too many carbs before dinner, and get in plenty of fruit and veg.
"Even though I am back in a happy relationship, I'm not tempted by the cosy nights in with a takeaway and comfort eating.  I enjoy cooking too much. Andrew and I are both happy to miss that stodgy feeling that comes after eating junk food."
"I've been talking to friends about another sky dive or even a bungee jump for charity. I'm so far from the person I once was, and I feel like there's nothing I can't do now.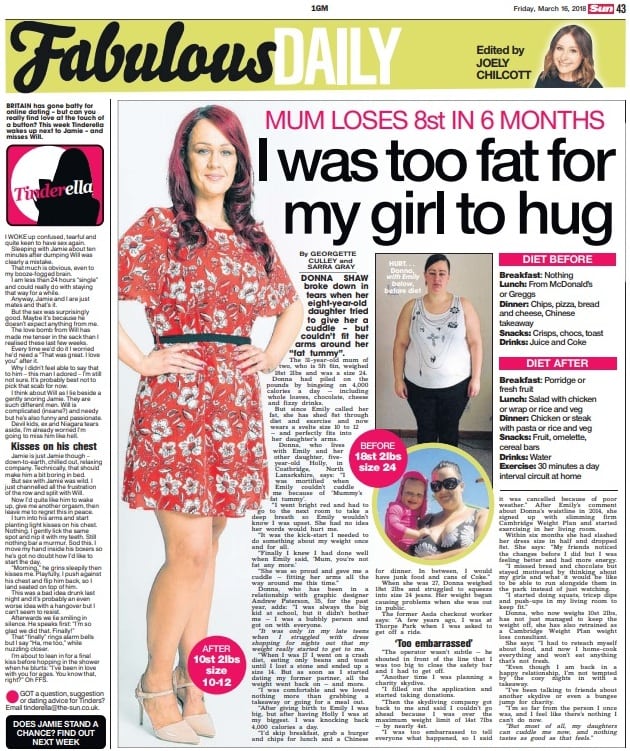 How to sell your story or weight loss before and after pictures
If you would like to share your weight loss transformation story, simply contact us using the Story Valuation form.  You'll find other ways to contact us here.
You can send your weight loss before and after pictures to: story@swns.com
We'll take a look at the main points of your story. One of our friendly writers will contact you to discuss your story in more detail and give you a valuation of what it's likely to be worth, based on similar stories.
Our service won't cost you a penny.  We're here to help you get the best experience from sharing your story.
Read our Sell My Story page to find out more.