Teresa was too fat to sit on a chair!  Read her incredible weight loss story.  We secured Teresa an exclusive deal with Take a Break magazine to share her journey.
Kissing my mum, Teresa, 39, goodnight, it was off to bed I popped. "Night mum." Night Kayleigh. Don't forget you have a doctor's appointment tomorrow," she said back.
"How could I forget," I mumbled to myself. I got into bed, pulled the covers up to my cheek and snuggled into my duvet with a sleepy smile on my face. Even though I missed him, It was lovely knowing I wouldn't be woken up by my little boy, Riley, 2, as he was staying at his dad's. As I turned my lamp off, I heard a terrible bang and felt the bed collapse beneath me.
I tumbled off my bed into a rolling mess on the floor. My bed was at a lopsided angle, the slats had broken and the legs snapped clean in two on the side I was laying. "Not again?" I thought to myself. I heard all of the crockery clatter together in the cupboards in the kitchen below and my mum came rushing up the stairs.
"Oh dear Kayleigh. Are you okay?" she gasped. "I'm fine," I said rolling around on the floor, attempting to pick myself up. "I've just broken my bed. Again."
Mortified, I grabbed a stack of books and wedged them under the broken side of the bed frame, and tentatively got back into bed. I kept waking throughout the night – my rolls of skin chaffing against one another and chin felt as though it was suffocating me. "Surely this shouldn't be happening at 21," I thought to myself.
In the morning I picked up my son and made my way, slowly to the doctors, pushing Riley in his pram. "I'm glad you're here Riley, your pram is supporting me," I said, gasping for breath. As I sat in the waiting room I took up nearly two chairs. I was embarrassed as my fat flowed onto another seat, preventing anyone else from sitting down next to me.
"Kayleigh Rampling?" called the doctor. She looked me up and down and gave a forced smile. "How are you today, Kayleigh?" The doctor asked. "I'm okay," I said, feeling ashamed. "Jump on the scales, please, and after I'll take your blood pressure," she said calmly. As I took off my shoes to jump on the scales, my heart pumped in my chest.
I looked down at the horrific double figure starting back at me. "19 and a half stone?!" I knew I was big but I had no idea my weight had gotten so out of control. I looked down over my bulging belly and was literally gobsmacked. "I only thought I was around 13-14 stone," I explained to the doctor, humiliated. I was hoping she'd reply, telling me her scales were on the fritz or something, but no such luck.
I guess I always wear a size 24 clothing, but never once did I think I was so large. I left the surgery six and a half stone heavier than I thought I was. I also had a higher blood pressure than normal, and my BMI was sky high. All I wanted to do was cry. I sat down on the wall outside the doctors and felt ashamed of myself. I looked down at my beautiful little boy. He gave me a cheeky smile, poked my belly and laughed.
"Could this day get any worse?" I said rolling my eyes. I was off back home to my mum's for a BBQ. I couldn't wait to eat my sorrows away and tuck into some burgers, cheesy chips, dips and pudding. My mouth watered just thinking about it. I took a seat on my mum and dad's new solid oak outdoor set. I had a plate of food on my lap and the chair started creaking.
Not thinking anything of it, I tucked in to the mountain of food on my plate. The next thing I knew, the slats caved inwards I fell right through the chair, crashing my bum on the floor. I quickly got up, placed the cushion back on top of the broken chair and walked away, looking around to see if anyone had noticed. I sat on the solid concrete patio step and stared at the broken chair.
After a few more food trips, I saw my dad approaching the chair. I closed my eyes as he sank straight through to the bottom and gave a loud yell. He looked at me and I started to laugh. "I've broken the chair, Teresa," he said. "Phew," I said to myself. I got away with breaking the new furniture. As I tucked into my man size plate of goodies my best friend Ella, 21, text me, asking me if I wanted to join them on a girl's holiday.
"Hell yeah!" I replied. "I'm sure my mum can look after Riley for the weekend and I could scrape some cash together," I replied excitedly. As I hung up the phone and picked up my plate, to continue stuffing my face, something horrible dawned on me. "I'm going to be the fat friend on yet another trip away," I said to myself.
On my previous holidays I would always get stuck in the sea, too heavy to drag myself out and up the beach. Throughout school, I was used to breaking everything I sat on. I broke chairs mid-lesson. They just collapsed under my weight. It was so embarrassing, and once I even rang in sick for a school trip to Alton Towers, as being turned away from the rides due to my size would have broken my heart.
And, when I went out for meals with my friends or family, I always requested a booth, or even pre-booked one as I was terrified of breaking a chair in the restaurant. This holiday, I was determined not to be the fat friend and I had five-months to lose the weight. I threw my plate in the bin, put a stop to the takeaways and there and then started eating salads, drinking water and cutting out all kinds of sugary snacks.
I went on more walks with Riley, we played more games together and five months later, I managed to lose three stone. "You look fabulous," my mum said to me. I was getting compliments left, right and centre and it encouraged me to stay on target. I was in the dieting zone and was so chuffed with myself for doing so well. I gradually saw my weight decline and every time I stepped on the scales, my heart fluttered with joy, as I'd always be a few pounds lighter.
After 23 months of healthy eating and exercise, I shed a massive nine and a half stone, nearly half of my body weight, all by myself, and I lost 7 dress sizes. I couldn't have been happier and I love my new image. Everyone always tells me how great I look and some people don't even recognise me. I can slip into a tiny size 10 and for once, I wasn't the fat friend.
I no longer break my bed, chairs don't collapse under my weight and I can finally sit at a normal table in a restaurant for once. Plus, my dad still has no idea, it was me who broke his solid oak chair.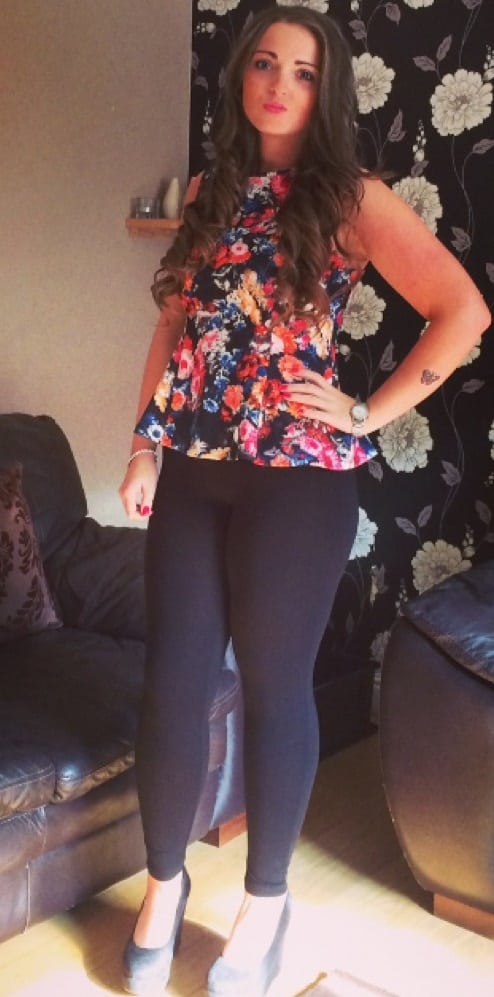 ---
Do you have a weight loss story to tell?  Were you too fat to sit on a chair, or did you face other embarrassing moments that made you transform your life?
Let us help you secure the most money for your story.  Simply fill out the form on this page and we'll get back to you with a story valuation.
Everything you send us is completely confidential until you tell us otherwise.
To read more about how to sell your story, see our sell my story page: https://www.sellusyourstory.com/sell-my-story/
You can see a few of our recent weight loss stories here…
[vc_row][vc_column width="1/1″][vc_home_masonry_posts title="Weight Loss & Slimming Stories" title_link="https://www.sellusyourstory.com/news/category/weight-loss-slimming/" cat_bg="#ea3cb0″ grid_categories="weight-loss-slimming" grid_teasers_count="8″][/vc_column][/vc_row]