Real life superheroes dressed as The Joker and Batman's sidekick Robin, save tenants from a flaming inferno until emergency services arrive.  We help the pair share their story with the press.
Rummaging around in my fancy dress make-up bag, I pulled out my white and red face paint and started slapping it all over Robert's face. He was off to a friend's fancy dress party and he was going as The Joker, from the Batman films, and his best friend Steven, 31, was going as Robin. "Old arch enemies, we meet again," Robert, 30, said to Steven as he walked into our house. 'Holy fancy dress, Joker!' Steven replied.
They both stood there together, hands on their hips, chests puffed out, trying their best to look evil and heroic. "Oh, don't you look good," I said to Steven as I carried on applying Robert's Joker make-up. "What do you think of my cape?" he asked cheekily. "I think it's no match for me, Robin," Robert butted in and laughed.
Robert and I have been married for X years and I've known Steven for about ten. The boys used to serve together in the army, and after 10 long years of service this fancy dress party was time for the boys to spend some quality time with each other. As the boys started to get excited about the party, the drinks started flowing and they knew they were in for a good night.
"See you later Claire, we're off," Robert and Steven both shouted. "Bye boys, have a good night and don't get into any trouble," I replied, snuggling into my blanket, while watching Friday night television. I must have drifted off to sleep, because before I knew it, I was woken by a phone call from Robert.
It was 1am and he told me: "Steven and I have been in a fire. We saved everyone from the building. It was four stories high and everyone got out alive." He sounded exhausted. "Oh my god, Robert! Are you and Steven okay? Where are you now?" I gasped. "Just round the corner, I'll tell you all about it when I get in."
Suddenly the door swung open and an exhausted Joker and Robin came in the front door and collapsed on the sofa.  A strong whiff of smoke followed them in down the hall. "I'm so glad your both okay," I said. I kissed Robert on his cheeks and had white face paint all over my lips. I gave Steven a hug and I was dying to know what had happened.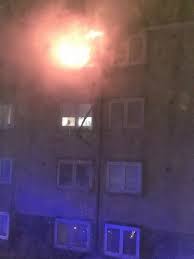 "We were walking home along X road and in the distance we both saw bright orange flames and thick black smoke bellowing out of the top flat window," Robert began. "The flats were four stories high and our instinct just kicked in – we had to get everyone out. "I started running and then…"
Excitedly, Steven interrupted, and I turned in my seat to listen. "And I saw Robert running so I followed right behind him. The other boys didn't have a clue why we were running or what was going on," he said. "So, we both raced to the top of the flats, making as much noise as we possibly could, screaming, 'get out! There's a fire, get out! Fire!'
"We were kicking and knocking on every door as we fled past." "One man opened the door, saw us standing there, and just slammed the door in our faces," Steven said. "He must have thought it was a joke as we were dressed as The Joker and Robin." I was having a hard time following the story and who was telling it.
"One at a time, boys, please," I said. Robert began wiping the make-up and lipstick from his face, but he was still covered in soot. "People started to flee the building, looking at us with crazed expressions. We tried to break down the door where the fire was coming from," he said. "We did and then Steven ran in. There was a huge explosion, the glass from the window shattered into a million pieces and everything was catching on fire.
"We could feel the heat and knew it was dangerous, but had to get everyone out. There was a man in there, his little son and their dog." "The man ran down stairs with his small boy to ensure he was well out of harm's way, then ran back upstairs to save his dog," said Steven. "We managed to get a few people out before the police and fire engines came.
You know us Claire, army lads don't care about medals, we were there at the correct time and did what was right." "Once we knew everyone was okay and out of the flat, the emergency services arrived and we just left," Robert said taking a sigh of relief. I was dumb-founded, my mouth was open through the entire story, I couldn't believe that the Joker and Robin saved everyone from the fire and left the scene like proper super heroes, not wanting any credit or even telling anyone their names.
"I'm so proud of you," I said to Robert. The next day the boys and I returned to the flats and we were greeted by a neighbour called Nicola, 33, who lived in the building and Kevin, 30, whose flat the fire had begun in. The boys spoke to Nicola and told her who they were. She told them: "I thought I was having a crazy dream when Robin and The Joker banged on my door in the middle of the night.
"You guys deserve a medal. Everyone got out because of your fast thinking. You guys are real superheroes." She turned to me and said: "I woke up with banging on all the doors shouting about a fire and when I looked through my spy hole and seen them in superhero costumes I honestly thought I was dreaming. They didn't think at all about their own safety they just wanted to make sure everyone was out and ok."
"Who would have thought it, you two, heroes?" I said laughing. Kevin was then introduced to the boys who saved his life, his son's life and his dog's life. He explained to me: "I woke up and saw the flames. The chip pan was on fire. I tried to put it out and it just exploded. I managed to get my five-year-old son down to a neighbour and went back to get my bulldog, Ice. We ended up standing outside in our bare feet, the boys are heroes and you should be really proud of your husband," Kevin said.
The boys turned their backs on their fictional life of crime and managed to save everyone from the building. They're real heroes. The Joker and Robin to the rescue.
---
If you have a heartwarming tale that you would like to sell to the national press, get in touch with us today.  Simply complete the story valuation form on this page and we'll get back to you with a quote.  We guarantee the highest fees and there is no obligation.  Our service is also completely free.
To read more about how to sell a story to the press, read our Sell My Story page, which explains the process in more detail.