My husband has taken our baby! Read the latest domestic violence story that we helped the victim share with the national magazines.  You can help those in a similar situation too; use our valuation form to get your story value today.
Read the latest domestic abuse story we've helped share this week…
Sitting at home, sipping a cold glass of wine in my pyjamas, I snuggled up on the sofa with my two friends. "This is perfect," I said to Tom Prichard, 23, and Gary Seinfeld, 25, friends I'd known for over five years. We were enjoying a chilled night in with a glass of wine and a take away. My 11-month-old, Isla was fast asleep upstairs, and my husband Wayne Pollard, 29, was enjoying a night out up the local with his mates.
Wayne and I had been together for five years and married for three. But even though he was the love of my life, his behaviour was sometimes very unpredictable. He was mentally and verbally abusive towards me on a daily basis.
He was very aggressive and would destroy everything around him if we had an argument, he would punch holes in the doors, smash glasses and break any ornament in sight. He would drink too much, treat me horrible, and then say his 'I'm sorry's' afterwards. It had almost become a routine part of our relationship.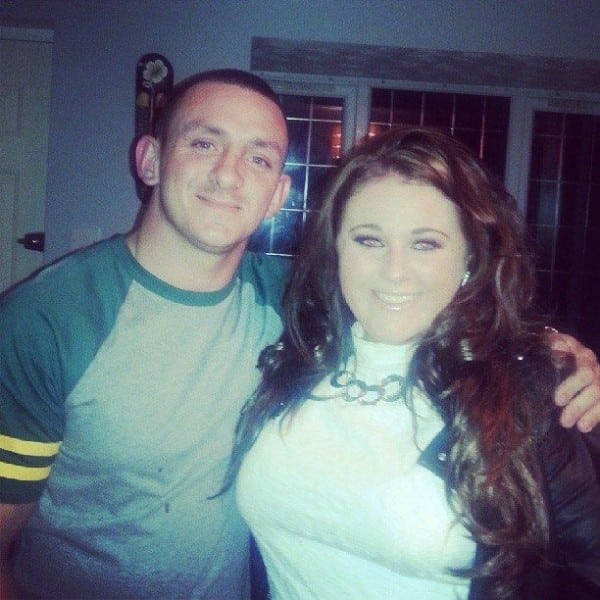 So much so, that we often spent nights in other people's company.  As the night drew to a close, and my eyes did too, I ushered the lads on their way. "Right then guys, time for you to go, I'm absolutely knackered." I said yawning. I knew Wayne would be home soon and it would be nice for him to come back to an empty house… the last thing I wanted was another argument.
"See you later, Sandie. Cheers for a good night," Gary said. He gave me a quick peck on the cheek and put on his coat to leave. "Take care, boys," I replied. As we approached the front door, I could see a shadow stumbling up the drive way through the glass door. "Great, Wayne's drunk," I thought to myself.
I bit my lip in anticipation as to what 'type of drunk' he'd be. Gary and Tom were slightly on edge too as they saw the same stumbling figure coming towards them. I kept my cool on the outside, but inside I was a shaking like a leaf – my heart pounding in my ears.
Wayne was fiddling around trying to fit his key into the small lock. "What is he like?" I said trying to make a joke to Gary and Tom, laughing awkwardly. I turned the door knob and Wayne pushed it open with a loud bang. It smacked against the wall, knocking plaster and wallpaper to the floor.
Wayne stumbled in, stinking of alcohol. "Wayne, Isla's asleep," I said, taking a step back, trying to shush him. "You all right, Wayne?" Tom asked, nervously, patting him on the back. The boys knew what he could get like. "What the f**K do you think you two are doing here?!" Wayne said aggressively, slurring his words.
The three of us were taken aback, his mood seemed menacing and his actions aggressive. He had meet Tom and Gary before. In fact, Gary was good friends with Wayne long before I'd ever met him. "You always have one too many, Wayne," I said feeling really embarrassed.
"Right we are, we best be off," Tom said, trying to leave. "You're not going anywhere, pal. You boys, around my house, with my wife," Wayne snarled. He turned to me: "You're a little slut, you know that? I know exactly what you've been doing!" My heart pounded.
What was he going to do next? I thought. I took a step back in case he tumbled on top of me.  I tried to control the situation – I knew I had to choose my words carefully, to lighten the mood. He usually came in drunk and raided the fridge for something to eat.
"Wayne, stop being so silly. There's some food left over if you fancy?" But nothing was going to calm him down. He stormed into the living room and in a fit of rage punched the television, threw it to the floor and smashed it. "Wayne, stop!" I screamed.
Then he went for me. I tried to run but he grabbed my hair and flung me across the living room nearly pulling me down to the ground. He dragged me into the kitchen kicking and screaming. He finally let go, but as I stood up, he landed an almighty blow to my face, punching me to the floor and knocking me out cold.
I came to minutes later in a pool of my own blood. My face was dripping red and my nose felt broken. I could just about make out Gary and Tom trying to restrain Wayne. All I could think of was little Isla. I couldn't hear her crying upstairs, "no way could she sleep through this," I thought to myself.
I tried to stand up, but Wayne, who'd managed to break free from Gary and Tom's grip, pushed me down to the floor once more. He just kept going for me – I was so helpless. I remembered my phone in my dressing gown pocket. I fumbled for it and managed to ring the police. I dialled 999, slowly, careful not to misdial any numbers in my dazed state.
"What's your emergency?" The operator said. But before I could reply Wayne grabbed the phone off me. Just before he smashed it into tiny pieces, I screamed my address: "17 Margate house…" Bang! My phone was destroyed in pieces on the floor. All I could do was hope and pray they heard me. I knew what he was capable of and I didn't want to be left alone with him for much longer.
Tom and Gary helped me to my feet as I heard Wayne's footsteps trample up the stairs. "Are you okay, Sandie? Oh god, there's blood everywhere," Tom said passing me a towel to stop the blood. Wayne came crashing down the stairs with a bundle of blankets. He had Isla in his arms, banging into the walls and against the bannister.
"You leave her alone," I screamed at Wayne. She had no fresh nappies, no overnight bag or any food. I tried to stop him, we all did, but he was too strong. He kicked and punched our family car, denting it, before managing to escape in a car his sister was driving. How he'd managed to call her, I don't know.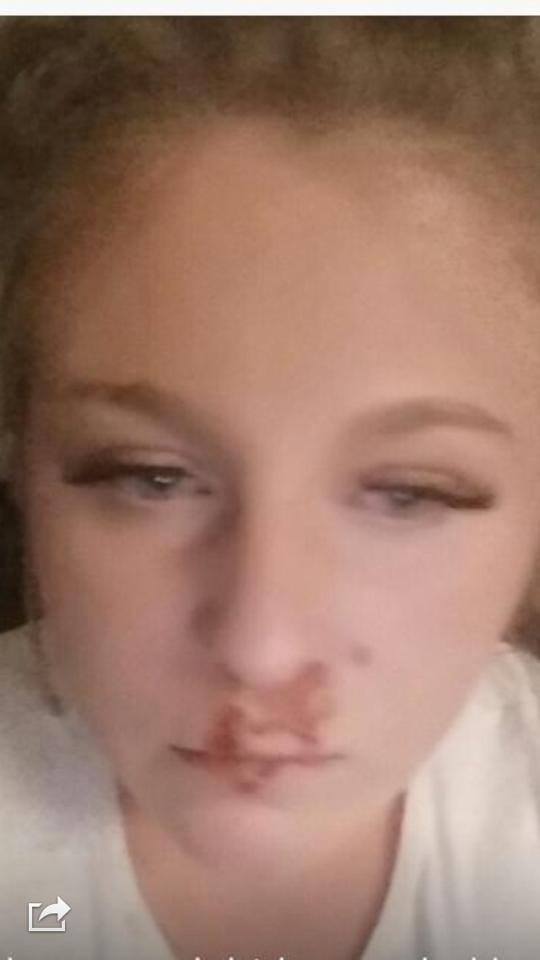 I was terrified I'd never see her again, my heart was broken. It felt like an episode of East Enders. I was waiting for the phone call from police saying they've found Isla, dead. In the background I heard faint police sirens getting louder as they drew closer.
"They had heard my screams," I thought to myself slumped on the ground. The police arrived and I told them what had happened. Tom and Gary had to give witness statements. They had wanted to call police during the incident, but they were too busy holding Wayne back to make the call.
I told them about Isla and within half an hour of another patrol car being sent around, an officer had arrived at my house, holding my baby Isla, who was still sound asleep. "My baby!" I took her from the officer's outstretched hands, kissed her on her forehead and held her tight to my chest.
"God, I'm so sorry guys," I sobbed to Gary and Tom.  "Are you crazy, Sandie? You did absolutely nothing wrong." The police informed me that they had arrested Wayne. He was hiding out at his sister's house. I told Gary and Tom to go home and rest. I felt so embarrassed about what had happened.
Wayne pleaded guilty to assault, damage, and to the theft of my phone and was sentenced to 10 weeks in prison at Blackpool Magistrates Court. He had to pay me £100 compensation, plus £580 for the damage with a £80 victims' surcharge ordered by District Judge David Stott. The judge said to him: "This was a dreadful offence. You got yourself drunk, became insanely jealous, knocked your wife down, took your daughter and rampaged about."
The courts offered me a restraining order again my husband, but I declined. Even though he's a monster of a husband, I still want him in Isla's life. Every girl deserves to have a father. I have filed for divorce after three years of marriage and five years of our relationship.
I had no idea I was a victim of domestic abuse. I wrote a letter to the court, pleading with them not to send Wayne to jail, I was terrified as to what may follow on his release, but since then I have retracted my letter.
I was also offered a women's refuge for a few weeks until I felt safe enough to be on my own, but I refused. I grabbed my baby Isla and took her off to bed with me. I'm just glad the monster is behind bars and I can now move on with my life, with my little girl, safe in my arms.
---
If you would like to speak to someone about the possibility of sharing your story, and getting paid for it, simply fill out the form on this page.  You only need to give us the basic outline of your story and one of our friendly and professional writers will call you to discuss your options and provide a story valuation.
You can read more on Sell my story – How it works.
Or you can see some of our recent client's stories below…
[vc_row][vc_column width="1/1″][vc_home_images_posts title="Domestic Violence & Abuse" title_link="https://www.sellusyourstory.com/news/category/domestic-violence-abuse/" cat_bg="#6e2b7c" grid_categories="domestic-violence-abuse" grid_teasers_count="16″][/vc_column][/vc_row]