My dad abused me.  He locked me in the car boot, drugged me, and repeatedly raped me.
SellUsYourStory.com is part of the largest independent press agency in the UK, providing a free service to help people share their stories, get the maximum payouts, and stay in control of their stories.  We've helped hundreds of people tell their story to magazines and newspapers, but rarely have we come across a woman as brave as Bobbi. Bobbi, 34, has told how she was raped by her own father during a decade of depraved sexual abuse in which he kept her prisoner – locked in the boot of his car. Read Bobbi's story below – 'My dad abused me and the police did nothing, so I snared him myself'.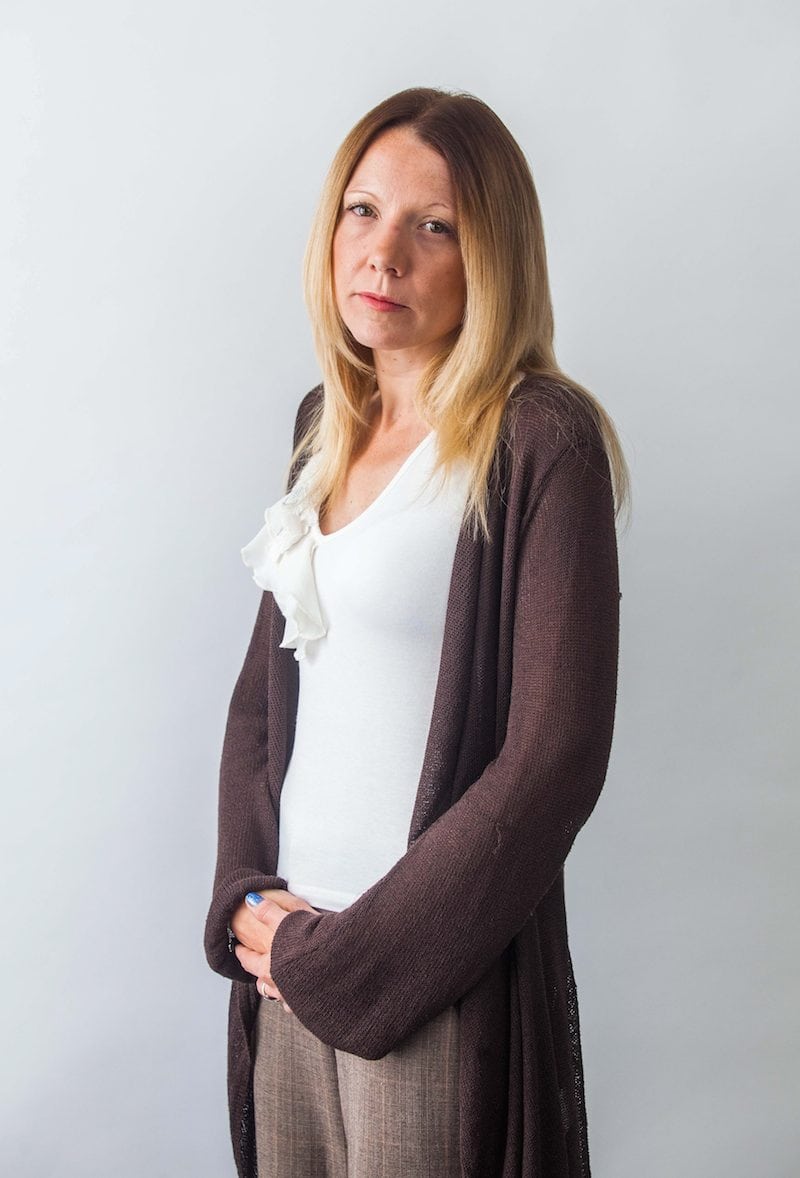 We helped Bobbi get a magazine deal and she waived her right to anonymity to expose her dad, Colin Goss, now 77, after he began abusing her when she was just four or five years old. As his daughter got older, sick Goss went on to abduct her, force her to live in the cramped boot of his Peugeot and rape her.
After confiding in a family friend and teachers, the defenceless schoolgirl was taken into care – but predator Goss tracked her down and abducted her from her care home aged 11. He smuggled her 270 miles away to a remote cottage and forced her to live in the boot of his car while he was at work, letting her out at night so he could rape her.
The evil molester drugged her and repeatedly abused her. He also allowed another man, Dean Angear, 41, to rape Bobbi multiple times, when she was 14 or 15 years old and horrifyingly watched on.
Thankfully after almost a year she was rescued by a police following a TV appeal by Phillip Schofield which was seen by a neighbour.
Bobbi's nightmare only came to an end in October last year, when she plucked up the courage to snare her evil dad. She bought a dictaphone and met Goss in person for the first time in six years, before secretly recording him in a 45-minute confession and handing it straight to police.
Shockingly the mum-of-one had reported Goss four times previously – begging officers to arrest him. Goss was even questioned in relation to Bobbi's allegations, but despite her pleas he evaded justice. Police and the crown prosecution service viewed that there was not enough evidence to prosecute him.
Bobbi gave three recorded interviews over a decade but her case wasn't taken to court until last year. But there was no escaping the hand of the law this time. Goss pleaded guilty to eight charges and was jailed for 16 years before the judge decided to increase his term to 18 years.
While Angear denied to specimen charges of rape. He was found guilty by a jury after a three-day trial and caged for 11 years.
'Your daddy's here!' my mum called, as his car pulled up outside. With my little suitcase packed and waiting by the door, I was ready for my first holiday to Devon.
'Hello Bobbi,' my dad, Colin Goss, said, crouching down to my height. He was so close to my face I could feel his hot breath. 'Are you excited for our break?'
Shy, I scurried away and hid behind my mum's legs, clinging to her tightly, before I poked my head out and nodded gingerly. I was four years old and dad had planned to take me to a farm with relatives for two weeks.
My parents had split up when I was just two and I hadn't seen him since. But I gave mum a kiss goodbye and took his hand, strolling off without so much as glancing back, as he led me to his car.
Sat in the back seat, I smiled and waved at mum through the window as we drove off. Dad seemed warm and friendly. But my delight at getting to know him quickly turned to dread.
A few days into our trip dad turned to me and said: 'You need to rub this special cream on me. If you don't, I will get really poorly and have to go into hospital,' he explained. 'You wouldn't want that now would you sweetheart?'
I shook my head. I didn't want dad to be ill so I put the lotion on his privates – like he had asked. I wasn't sure if all daughters helped their daddies in this way. I was so young I didn't understand what was happening when he got an erection.
'Did you have a nice time?' mum asked when I got home. My eyes filled with tears. 'What's wrong?' she soothed. I told her and a family friend what dad had made me do.
Horrified, they called the police, but dad answered 'no comment' to all of the questions officers asked. Mum was told there wasn't enough evidence to proceed. Still I was kept away from him. I never expected to see dad again. But before long, mum struggled to cope on her own, and I was taken into care.
I'd never felt so alone. A few years later, when I was seven, dad got in touch with the care home I was living in. He was the only relative to ever visit or show any interest in me. He quickly changed me from a shy and innocent little girl to a spoilt brat by lavishing me with gifts. He bought me jars of sweets and rollerskates every time he showed up. Then one day, he told me he had come to pick me up.
'You're coming to live with me now,' dad said. Although last time it had ended badly, it was so long ago, I thought it must have been a one-off, a silly mistake, dad wouldn't repeat. I pushed any niggles to the back of my mind. Thrilled to finally be part of a family I longed for.
Dad had sons, which meant I had brothers. But they wanted very little to do with me. But on my first night at dad's house, he told me I needed to sleep with him in his bed. As I climbed between the sheets, completely naked, I thought: 'This is strange.'
I knew my pyjamas were packed in my overnight bag, so I wondered why dad didn't want me to wear them. Dad began touching me and getting me to touch him. As time passed the abuse became more frequent, but I didn't know any different. To me, it was normal.
When I was at school, I started to realise what dad was doing was wrong. But I'd been dumped with this man and I felt trapped. It took me a year to pluck up the courage to tell anyone what had been happening and when I was eight, I confided in a teacher at school. When blurted it out, they immediately called the police and officers turned up at my classroom to collect me. They took me to live with my mum again, but after just four days I was back in a care home in Corby, Northamptonshire. But I was still within dad's reach.
There was supposed to be a protection order in place – meaning all his visits would be supervised. It wasn't long before he turned up again and wormed his way in – bringing fruit baskets and chocolates for the staff to get close to me. He had wads of cash too and he even took them out and treated them to meals.
Dad drove other family members away from me, so I soon came to depend on him. Then one day, when I was 11, I was walking to school when dad suddenly showed up and demanded that I go with him. He picked me up off the street and smuggled me 270 miles away to a remote holiday cottage in Saltash, Cornwall. He forced me to stay indoors with the curtains pulled.
There the abuse escalated and dad started raping me regularly. My stomach churned with sickness and worry, every time he came near. Dad worked in a garage near the property he rented.
In the days, he forced me into the boot of his Peugeot 405. 'Stay there,' he said, slamming the boot firmly shut. It was dark and the air was musty. I felt sick as I bumped around as he drove along country lanes. When the vehicle came to a stop, I expected dad to open the boot and let me out, but instead he slammed his car door and I heard his footsteps trail off as he walked away.
I wanted to scream. I thought he might have just popped into a shop and he wouldn't be long or maybe he'd forgotten I was in there. Curled up in a ball, I shivered in the cold, waiting in silence for him to return. When dad did return – hours later – and opened the boot, I squinted as my eyes adjusted to the brightness of daylight.
As I quickly looked around, I realised we must be at his workplace, near the forecourt. 'Quickly, get out and go to the loo if you need to,' dad instructed me, before making me climb back in. I did what I was told. Dad would often get drunk and become violent. I'd get vicious beatings if I stepped a foot out of line.
Dad then handed me something to eat and a carton of juice. He also pressed a pill into my hand. 'Swallow that,' he demanded. I had no idea what it was at the time. It must have been ecstasy. 'Now be quiet,' he told me. 'I'll be back later.'
All I had was a quilt to keep me warm. From then on he gave me one or two tablets a day. I was off my face most of the time and if I wasn't I was shaking from a come-down.
After his shift, dad drove back to the cottage – I was still in the boot. At night he let me out, but I don't know what was worse – being kept as a prisoner in the boot of his car or as his sex slave back at the cottage. Dad treated me as if I was his wife, not his daughter.
I didn't go to school. I was at home instead. I cooked and cleaned and even trimmed his ear hair. He'd come home and we'd eat, watch TV and then go to bed.
Dad told me he'd change though. 'We'll be a proper family,' he said. The promise was dangled in front of me like a carrot and I fell for it, hook, line and sinker. On one shopping trip, dad even bought me a black lacy lingerie set with suspenders.
As soon as we walked through the front door, dad turned to me and said: 'You've had a good day, haven't you? Are you going to show me what I've bought you?' he smiled. I couldn't put the suspenders on, but he corrected them for me. And I walked around for him feeling uncomfortable. He stared at me and I felt his eyes piercing my body. 'You're so tall and womanly for your age Bobbi,' he complimented.
But things only went from bad to worse, when dad invited his friend – Dean Angear – over. I was given drugs and dad allowed Dean to have sex with me, while he watched and pleasured himself. I felt sick, but I had no choice. It happened more than once.
I panicked I would fall pregnant and end up having dad's baby. I'd started my periods at an early age and by 11 I was well developed. Dad never thought to wear a condom, but he got anusol – which is meant to go in your bottom – and made me use it as contraception. It was only when I got older, that it dawned on me that that wasn't what it was supposed to be used for.
I had no idea, but dad had abducted me from the care home when he came to pick me up and told me I was going to be living with him. A missing persons appeal had been launched which appeared on 1990s ITV show called Schofield's Quest.
Presenter Phillip Schofield investigated mysteries on the programme and in my case it was a missing person. A year after first being snatched, I was recognised by a neighbour who called the police. Officers swooped on the premises and dad was arrested once more. I was flown back up North by plane, in case dad tried to intercept the police on the motorway.
The CPS decided not to prosecute dad on sex abuse charges. But he did plead guilty to two counts of child abduction at Corby Magistrates' Court and received  a 24-month conditional discharge.
Desperate, I even tried to report him to police when I was aged 14, but once again it dismissed due to an apparent lack of evidence. It seemed no matter what dad did, he could get away with it.
I hit the drink and drugs hard and when I was 15 I slept around. Never disclosing what dad had been doing to me throughout my childhood. But despite being removed from my dad's clutches, as I reached adulthood he was still able to creep back into my life. Although the physical abuse came to an end, the mental torture continued.
In time, I met a lovely man and we became a couple. We got married and went on to have a daughter, now seven. I eventually told my husband what my dad had done to me. Furious, he called dad and threatened to kill him if he came anywhere near me. He thought he had kept dad at bay, but it couldn't have been further from the truth.
Dad was constantly ringing me and turning up at my house. I even had two mobile phones – one I hid from my husband – as dad would call it non-stop. My partner would be livid if he had known. Dad called every day. If I didn't answer, he would keep ringing until I did. He once called 80 times in a week. It was relentless.
He still had a hold over me. I couldn't talk to anyone about what he'd done. I tried to shut him out, but he caused so much trouble and he always crept back in. If I didn't answer he would show up uninvitied at my workplace or house. It was easier to stay in touch with him and try to stay one step ahead of him.
But when my eight-year marriage broke down, in October last year, I decided it couldn't continue and planned to catch dad out myself. It was clear no one else was going to help. I hadn't seen my dad in person for six years when I called him.
Shaking as I dialled his number, I confronted him and said I was going for a jog and asked if it was OK if I popped in to his home in Plymouth, Devon, to see him. 'Of course,' he replied.
Armed with a recording device, I walked into his house. I'd set up the dictaphone before I went inside and hid it on me. I sat with him and we were talking for around 45 minutes. I tearily poured my heart out and all he could say was that he was sorry.
Incredibly, throughout the conversation he said how he wanted to live the rest of his life in peace. He asked if I could get help without going to the police. But I knew I could never move on from it, until dad was in prison and out of my life for good. I'd snared dad in a confession and handed the tape straight to the police.
I built the whole case against dad myself, but I knew there was no other way. I was determined for it to see it through this time.
Dad was finally arrested and the prosecution which should have happened 30 years earlier took place.
Colin Goss, now 77, pleaded guilty to eight charges and was jailed for 16 years at Plymouth Crown Court, before the term was increased to 18 years. He admitted one count of indecency with a child, two charges of indecent assault and three counts of rape between 1985 and 1995, as well as two counts of child abduction.
He was originally jailed for 16 years at Plymouth Crown Court, in July this year. However the term was later extended to 18 years imprisonment after the judge decided Goss had not pleaded guilty at the earliest opportunity.
His sick pal Dean Angear, 41, denied two specimen charges of rape, he was found guilty by a jury after a three-day trial and caged for 11 years.
There's not a day that goes by where I don't think about what he put me through. It haunts me. Part of me can't help but feel a little bit guilty about sending my dad to prison. I do care about him, no matter how rotten he is and has been. I'm the one with the life sentence. My dad has had his life, I have lost the bigger part of mine and I will never be free.
---
Do you have a story to sell?
If you have a story like Bobbi's, or any other story that you want to share, get in touch today.  You can use our Story Valuation form or give us a call.  Our service is free and nothing will be shared or published without your permission.  You only need to write a couple of lines to give us an outline of your story, then we'll call you back to discuss it in more detail.
Whether you want to raise awareness, help those in a similar situation, or just make some money, read more about selling your on our Sell My Story page.
Recent clients
Here's a selection of recent clients who've bravely shared their domestic abuse and domestic violence stories to help those going through something similar.  To see other stories, click here.
[vc_row][vc_column width="1/1″][vc_home_blog_posts title="Domestic Abuse Stories" title_link="https://www.sellusyourstory.com/news/category/domestic-violence-abuse/" cat_bg="#98f000″ grid_categories="domestic-violence-abuse" grid_teasers_count="10″][/vc_column][/vc_row]