Is it ever too late for a sex change?  Not according to Michelle, formally Marc.
Brave Michelle told SellUsYourStory.com the touching story of how she's finally getting a sex change to become who she's always been inside following following her wife's dying wish (when Michelle was still Marc).  We helped secure Michelle an exclusive deal with Chat magazine who wanted to publish her story.
If you have a story that you would like to share with a magazine or newspaper, get in touch today.  Our service is free and we guarantee to secure you the best fee and tell your story YOUR way.   You can use the story valuation form on this page to get in touch, or you can read more on our Sell My Story page.
---
Michelle's Sex Change Story
Michelle, formally known as marc, 54, has known since she was just 13-years-old that she was trapped in a man's body.
The hell's angel's biker was a typical man's man. He's worked in pub all this life, liked nothing more than riding his motorbike and was always dressed in thick black leather biker gear.
But, after finding the love of his life, Karen, 35, the two-some wed for three-short years before she sadly lost her battle with cancer. It was only when Cath was on her death bed that marc realised his dream of becoming a women, she told him to be who he wanted to be.
Now pulling pints in her local pub, Michelle's ex-wife turned him into the women he always dreamt of being.
A biker barman has undergone a Caitlyn Jenner-style transformation after receiving the deathbed blessing of his wife. Marc's wife Karen was the only one who knew how much he yearned to be a woman.
And as Karen bravely fought what was to be her final battle, she urged bar boss and Hell's Angel rocker Marc to take the plunge. Tragically, Karen died soon after, aged just 35. But her heartfelt plea to Mark to "be who you want to be" inspired the leather-clad biker to take the first steps towards becoming a woman.
Now, thanks to Karen's touching final wish, Mark is Michelle. Michelle is now waiting for surgery – the final instalment of a long and dramatic transformation to become "all woman".
She revealed her journey from bearded biker to glam barmaid after having watched the positive reaction received by Keeping up with the Kardashians reality star Bruce Jenner as he transformed into Caitlyn.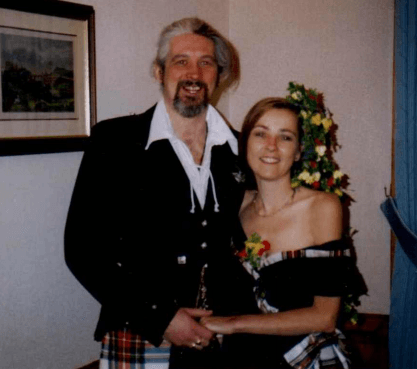 Michelle said she also kept her desire to change gender a secret for most of her life – until Karen uttered her final wish. And she spent years rubbing shoulders with rock stars and tough bikers, working behind the scenes at some of the world's biggest music festivals.
Mark married Karen soon after her cancer diagnosis and nursed her throughout her illness. But Michelle has faced a long wait for full treatment to enable her transformation to be complete.
Michelle said: "Karen was the total love of my life. Losing her made me think about my own life and where I wanted to go with it. She knew she was dying. She said to me: 'Be yourself, be who you want to be'.
"No-one had ever spoken to me like that before, I realised that life really was too short.  "I knew from 13 years old that I didn't fit the usual male stereotype, I liked dressing like girls and although I liked cars and motorbikes, I preferred to hang out with girls.

"I had long hair and if someone mistook me for a girl, I was delighted. Karen knew all about how I felt, but I was really 'in the closet' for 35 years."  "I used to be a Hell's Angel and I hung around with lots of really cool people," said Michelle. "But I didn't want to lead a double life."
"The physical changes haven't come quickly enough for me," she added. "And I still don't know how much longer I will have to wait for surgery. "People haven't really batted an eyelid. You get a bit of banter but I've heard that kind of thing since I was a teenager with long hair.
"Karen was the love of my life. She was the person I wanted to live my life with and she was gone. She was a wonderful person and pivotal in making me believe in myself. "She loved me. I'm who I am now because of her."
If you would like to read more stories like this one, check out just a few of our recent clients below…
[vc_row][vc_column width="1/1″][vc_home_blog_posts title="Recent Client Stories" title_link="https://www.sellusyourstory.com/news/category/real-life-story/" cat_bg="#98f000″ grid_categories="real-life-story" grid_teasers_count="10″][/vc_column][/vc_row]