"HARD AS NAILS" 
CARPENTER AND MOOSE hunter Jeff Luptak brings new meaning to the phrase 'hard as nails'. 
When a pal accidentally shot him in the head at point blank range with a 16 gauge nail gun, Jeff was more concerned about the hole in his cap.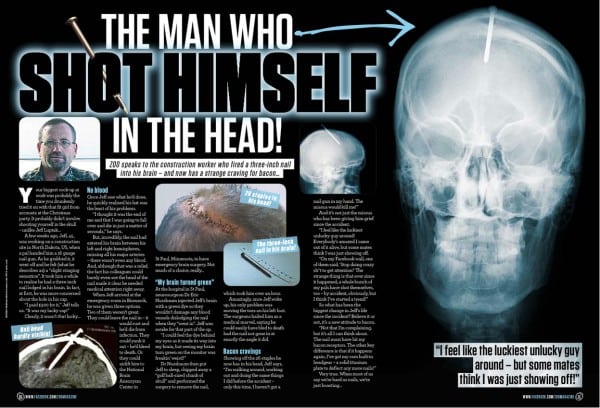 "I paid $300 for that cap. It was my lucky cap!"
Not that lucky, considering the nail had shot right through the hat and into his skull leaving the hapless 45-year-old with a THREE INCH NAIL lodged in his brain.
Jeff was working on a construction site in Bismarck, North Dakota when he asked a pal to hand him the nail gun.
As he grabbed the gun he heard it go off and felt a slight stinging sensation and pressure in his noggin'.
"The first thing that went through my mind (err except the nail, right Jeff?) was that was the end of me," he said.
"I'm going to fall over right here and die. It's just a matter of seconds."
As he lay on the floor waiting to die all he could think about was his wife, his seven-year-old twins and his 14 year-old daughter.
But incredibly, the nail had entered his brain in between his left and right hemispheres missing all Jeff's major arteries leaving him alive but with a stonking headache.
There wasn't even any blood!
"You could barely see the head of the nail," said his wife, Kim, who rushed to the construction site to find Jeff joking about the hole in his lucky cap.
Jeff was taken to the emergency room at St. Alexius Medical Center in Bismarck where a doctor told him he had three options and two of 'em were bad.
They could either leave the nail in – it would rust and he'd die from infection.
They could yank it out – he'd bleed to death.
Or they could airlift him to the National Brain Aneurysm Centre in St Paul, Minnesota to have emergency brain surgery.
Jeff weighed up his options, and figuring that he kind of liked this living lark, he plumbed for the brain surgery.
At the hospital in St Paul, neurosurgeon Dr. Eric Nussbaum injected Jeff's brain with a green dye so that when they 'went in' they didn't damage any blood vessels dislodging the nail.
"I could feel the dye behind my eyes as it made its way into my brain, but seeing my brain turn green on the monitor (Jeff was awake for this part of the op) was freakin' weird!"
Dr. Nussbaum then put Jeff to sleep, chipped away a 'golf ball sized chunk of skull' and performed the surgery which took over an hour to remove the nail.
Waking up 15 minutes after the operation, Jeff's first question was, "Am I alive?"
He was, and despite a nail-biting brush with death, his only problem was moving in his left toes and ankle.
The surgeons who operated on Jeff hailed him as a medical marvel saying: "he could easily have bled to death had the nail not gone in at exactly that angle".
"It was amazing that considering the depth the nail penetrated he didn't have any more problems," said Dr. Patrick Graupman, who also operated on Jeff.
Showing off the 26 staples in his head Jeff says, "I'm walking around, working out and doing the same old things I did before the accident – only this time I've haven't got a nail-gun in my hand – the missus would kill me!
"I feel like the luckiest unlucky guy around."
"Everybody's amazed I came out of it alive too, but some of my buddies think I was just showing off.
"On my Facebook wall, one of them wrote: 'Holy cow, Jeff. Stop doing crazy shit to get attention'.
"And ever since it happened a bunch of my pals have shot themselves too.
"By accident, obviously, but I think I've started a trend."
Oddly enough, since the accident, Jeff's had a strange craving for bacon.
"Not that I'm complaining, but it's all I can think about. The nail must've hit my bacon receptors."
"And if it happens again, I've got my own built in head gear – a solid titanium plate to deflect any more nails!
After 28 years in the construction business, Jeff feels lucky that the nail in his head didn't turn out to be the nail in his coffin!