How do we sell our wedding story to a magazine?
We've been wondering how to sell our wedding story to a magazine. Can you help us?
SellUsYourStory.com were contacted by newlyweds Giuliana and Paul Hornby, who thought their gruesome wedding day might make a good magazine article.  They were right, we arranged an exclusive deal for their story to be published in New magazine for the highest fee possible.
SellUsYourStory.com is part of the largest press agency in the UK and we specialise in helping people share their stories and get the most money possible for their story. Have you got a quirky or unusual wedding planned? If you've been wondering 'how do we sell our wedding story to a magazine' get in touch today.
---
As Halloween dawns, self-proclaimed horror-obsessives Giuliana and Paul Hornby tell New! about their spine-chilling special day…
When Giuliana and Paul Hornby got together, they quickly realised they were kindred spirits who were both obsessed with horror and gore. So when they started planning their wedding day, they knew it wouldn't be a chintzy day of pink flowers and frilly white chair covers. Instead, they went to town with the Halloween theme, and had everything from life-sized skeletons, creepy wedding music and even splatters of "blood" up the walls as they said "I do". Here, Giuliana, 28, a primary school teacher from St Annes, Lancashire, tells new! about her wedding day from Hell…
"As the smoke from the bubbling cauldrons snaked upwards, I glanced at the blood-splattered walls and my heart started to beat faster. But this wasn't the scene of a brutal massacre – it was the wedding day of my dreams! Ever since I was a little girl I'd known I hadn't wanted a run-of-the mill "fairytale" wedding. And, sure enough, here I was walking down the aisle in a black lacy dress surrounded by witches and ghouls. 
My love for horror began after I sneakily watched a VHS of Steven Spielberg's The Exorcist at my best friend's house when I was barely 13. I've been mad about the macabre ever since. I watched horror films whenever I could, and sat spellbound as my gran told me ghost stories. After finishing school and doing years of bar work, in August 2009, I saw an ad for a job at Blackpool's Passage de Terror, an interactive horror experience. The job involved dressing up as Regan, the girl in The Exorcist who gets possessed by demons, and screeching at visitors while shaking demonically on a bed.
The manager Paul, 34, interviewed me, and I must have given a strong performance because I got the job. It was perfect for me and, what's more, Paul and I hit it off. Both obsessed with anything spooky, we spent our breaks talking about horror non-stop. So it was fitting that our first date was at a Halloween party that October. When I saw Paul dressed as the exorcist girl, I knew he was the one for me.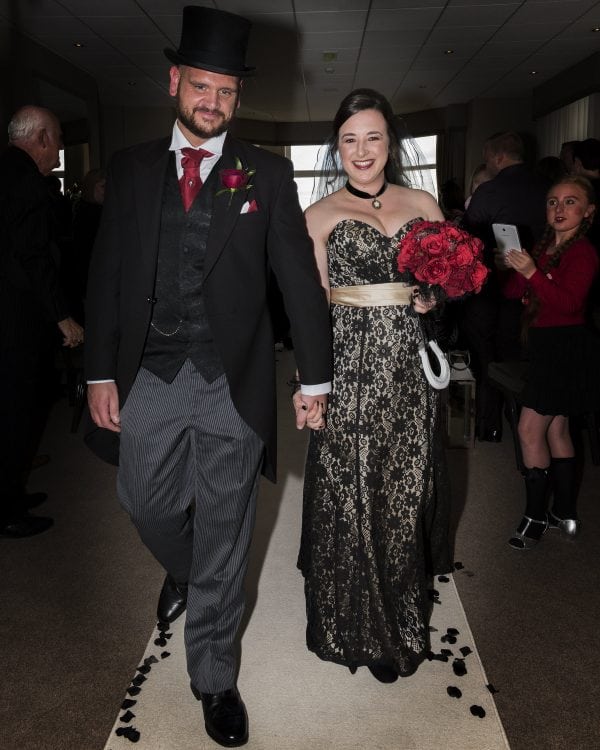 "You could put me out of a job!" I laughed. That night, under glistening cobwebs, we shared our first kiss. From then on we were an item. But while other couples celebrated Valentine's Day, Paul and I were in our element come October 31. Halloween was always our favourite time. It meant fancy dress parties, trick or treating and shopping for ghoulish paraphernalia.
Despite changing careers – I trained as a primary school teacher, and Paul is a driving instructor – we never lost our passion for horror. In fact, it even became a tradition to visit a scare attraction at least once a year. In October 2012 we decided to celebrate Halloween by visiting our favourite place, Scare Kingdom's Scream Park in Preston. When we arrived, Paul suggested a trip inside the haunted house.
As we walked into the darkness, the familiar feeling of terror washed over me. Scary figures starting jumping out and chasing us with chainsaws, while 'demonic forces' were shaking the entire building. Before long, some axe-wielding mad men managed to separate Paul and me. Then things took an even darker turn.
Terror
Suddenly a brown sack was thrown over my head. I knew it was all just play but I couldn't stop my heart hammering in my chest. Abruptly the sack was whipped off my head and a herd of zombies threw me into a rusty cage. In the dim light I saw a twitching bundle of blankets in the centre, while the group of "undead" surrounded me, making spooky groaning noises. Just then, a thundering voice echoed around the room.
"Giuliana, do you want to see what's beneath the cloth?" it asked. "No don't show me!" I squealed, playing along. But suddenly I realised something really wasn't right. They knew my name. Before I knew it they'd ripped off the covers – then I was completely lost for words. There in front of me was Paul, on one knee.
I was confused and terrified, but eventually the penny dropped when Paul asked, "Giuliana, will you marry me?"
Momentarily stunned, the words finally fell from my lips. "Of course I'll marry you," I gasped. "I love you, Mr Hornby!" The zombies cried out in delight and suddenly the sound of popping corks filled the room. As I took a sip of champagne, the mixture of fear, shock, excitement and bubbles made me giddy! When we got home and started to talk about our big day, we both agreed we'd have a Halloween themed wedding."It was our love of horror that brought us together," I pointed out. "It would seem wrong not to honour that on our wedding day."
We set the date for August 14th 2016 and chose the Clifton Arms Hotel near where we lived. However when we told them about our plan, we were worried they might refuse. After all, this was one of the poshest hotels in Lancashire. But the managers and staff loved the idea of transforming the grand venue into the depths of Hell. We settled on the classic "haunted house" look, with large candelabras covered in cobwebs, tall alter candles and luxurious drapes, and decided it would be a day of truly elegant horror. However, not everyone was so struck on the idea.
I told my mum, Vina, 54, our plans over coffee and she couldn't hide her shock."What?" she cried, "I know you and Paul love this stuff but I wanted you to have a traditional white wedding." I tried talking her round but she was adamant I was making a mistake.  Paul's mum and dad weren't surprised, and my dad, Michael, 58, reacted better.  "Brilliant," he said. "I've always wanted an excuse to dress up as a funeral director, with a top hat and cane!"
Mum and I barely spoke for a week, but finally she emailed me.  "Just to let you know I've had a fab idea," she wrote. "You should add a red liqueur to the champagne so it'll look like you're toasting with sparkling blood!" "Phew," I thought, sighing with relief that she'd come round to the idea.
A morbid marriage
Even with the stash of memorabilia we'd collected over the years, it wasn't easy getting everything sorted. After all, we couldn't just walk into any old bridal shop for supplies. Still, after some late night planning – while Nightmare on Elm Street played in the background – we started to amass the perfect selection of eerie wedding props.
We sent out invitations on bloodstained parchment paper, covered in cobwebs and delivered in cardboard coffins, and told our guests the dress code was Victorian Gothicism to Classic Horror and anything in-between. I settled on a black lacy dress with a gold sash – just the right amount of macabre – while Paul decided he'd wear a traditional mourning, sorry, morning suit.
Before long the big day arrived. As I walked down the aisle, the eerie theme music from the film Poltergeist filled the room. Looking around at my best friend Ash, 29, dressed up as Dr Frankenstein, another friend looking like Count Dracula and various witches cloaked in black, tears of joy filled my eyes. All the guests had made such an effort.
Soon the best man was presenting the wedding rings in a miniature coffin on top of a severed hand. I glanced at Paul in his blood-red tie and top hat and felt like the perfect "corpse bride". Afterwards we headed to the wedding reception, taking a detour through the cemetery. "Well, where else would we want the wedding photos?" I joked to guests.
For our wedding breakfast, waiters wearing blood-splattered aprons served "cut-throat curry" and "choking chilli" and guests drank "extra-bloody Marys". As another gruesome touch, we even gave guests syringes filled with "blood" (aka food dye) to squirt into their glasses of champagne. We tucked into red velvet wedding cake decorated with zombie versions of our guests climbing up the sides of the icing towards figurines of Paul and me wielding chainsaws. And later we had our first dance to Metallica's Nothing Else Matters.
Then after the party was over we said our goodbyes before jetting off to Florida for our honeymoon, where we visited Disney's Haunted Mansion.
Paul and I took our love of all things spooky to the next level when we launched a website, www.TerrorAttractions.co.uk, where we review scary sites across the country. This Halloween we're reviewing Alton Tower's Scare Fest, although I'm not sure I'll get nearly the shock I did three years ago when Paul proposed!"

If you would like to find out more about selling a story to magazines or newspapers for the maximum fee possible, see our Sell My Story page.  If you have a story to sell, simply fill out the Story Valuation form on this page and one of our team will get back to you if we think your story could fetch a fee. For other ways to contact us, see our Contact Us page.
See a small selection of our recent wedding stories here: https://www.sellusyourstory.com/news/category/wedding-stories/