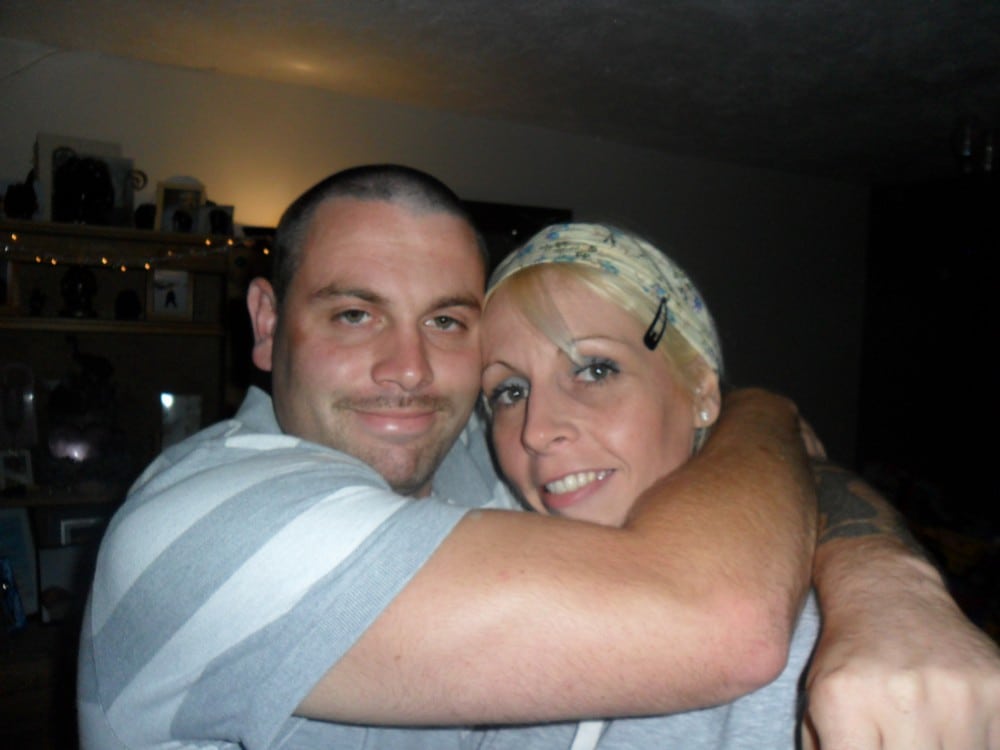 Brave Shelley James shared her tragic domestic violence story with SellUsYourStory.com.  Shelley wanted to tell her story and help those in a similar situation.  We know the guts it takes to share a story like this publicly; every domestic abuse story is handled with the utmost sensitivity and care and we know how many people take strength from stories like this from the responses and feedback we receive.  Read Shelley's story tomorrow…
---
As I lay in bed on the hospital ward staring at the ceiling, I tried to make sense of what I had just been told. I was afraid they were going to tell me something terrible was wrong. When three doctors stand around you for an examination, you tend to feel that whatever they're about to say isn't going to be good news. "We'd like to be the first to congratulate you on your pregnancy, Ms James," the doctor said. "You're having twins."
I was hysterical. After I gave birth to the youngest of my two boys, Oran, three, I was told I wouldn't be able to have any more children. Now I was being told I was having not just one more baby, but two.
Shaking, I silently nodded as they told me the twins were sharing one membrane, which made them vulnerable – it was going to be a closely-monitored pregnancy. As soon as I had chance, I told my partner Thomas. He was delighted. "That's the best news I've heard in a long time," Thomas said. His father had serious health problems and it had knocked him for six. He'd been glum for weeks, so I was delighted to see the sparkle back in his eyes.
I'd met Thomas five months before when my son's radiator had broken. It was the middle of February and Oran's room was freezing cold. I called the housing association – Radian Housing – and they sent Thomas Collis, 29, to come and fix it. After Thomas had finished the job and left he text me a few hours later to ask me out on a date.
He seemed like a really nice guy and was handsome and charming, but I'd not dated much after Oran's dad left soon after he was born. Men weren't on my radar – I lived for my children, Oran and Nathan, 13. I told Thomas in no uncertain terms I wasn't interested in a relationship. "That's fine," he said. "How about we go out as friends then?"
I thought to myself 'why not?' He seemed like such a nice guy. He told me he had a six-year-old son of his own and got on really well with my two boys. After a few weeks of going out as friends, the inevitable happened: we fell for each other.
He was so charming and he never stopped complimenting me – he bought me flowers and jewelry and made me feel great about myself. We saw each other every day when he finished work and would chat on the phone for hours. He took my boys swimming and to football matches and my trust in him grew every day.
He could be a bit jealous from time to time, but his ex had cheated on him so I knew he was tender about it. I was patient and tried to reassure him that I was only interested in him. By this point our relationship had gone from just friends to full-blown love. When we found out we were expecting twins it was a day of such mixed emotions. I certainly hadn't planned on the pregnancy and to be told there were likely to be complications made me very anxious.
I tried to talk to Thomas about it, hoping to ease the pain by getting it off my chest. "I'm really worried about the twins," I said. But Thomas was distant. He'd begun to get depressed and withdrawn. One day he turned up at my house, rambling incoherently. The things he said were quite frightening so I asked him to go to the doctors for a check-up. He was given mild antidepressants and for a while he seemed to get back to his normal, bubbly, and charming self.
I needed him to. I needed his support and with my boys relying on his presence, they needed him too. But then he suddenly became violent. He pushed me on the bed while questioning me about my ex. I told him: "Thomas, you can't push me around. You can't be rough with me. I'm carrying twins."
I hadn't spoken to my ex in years. But it just seemed to go straight over his head. After that we started seeing less and less of each other. He would be unreachable for days. It got to the point where I thought our relationship was over. But I was still worried about him. He seemed to be going off the rails. When I tried to ring his work phone, it wasn't even ringing. I had more important things to think about though. By that point I'd had three out of four of my scans. The doctors were keeping a close eye on me but I felt completely alone going through such an anxious time.
I was eleven week's gone at this point and I was starting to show. I was feeling sick and run down as well. A week after I last heard from Thomas I decided to go to my friends for a coffee and a chat. I dropped Nathan off at his friends after football and, with Oran, went to see my girlfriend around the corner.
A couple of hours later I got a call from my neighbour saying Thomas had turned up on my doorstep. When I wasn't in he had knocked on my neighbour's door and told her he was going to hurt me. She said she could smell alcohol on his breath. I jumped in the car and raced home. I was more concerned that he'd driven in his work van while he was drunk.
When I got there I saw Nathan was already home and had let Thomas into the hall. Nathan thought he was just messing around, but when I saw his face, I knew he was far from it. Before I could turn to Oran to tell him it was going to be all right, Thomas came stomping toward the car. He opened the passenger door. He lent in and grabbed Oran.
I screamed as he took him over to the front door of the house. He put him down and turned back toward the car. His eyes were like saucers: blank and lifeless. He looked like a robot. I mouthed to Nathan to go inside. Thomas picked up the bag of toy trains Oran had taken with him and walked around to the driver's side where I was watching him intently; waiting to see what he was going to do. I thought about talking to him.
"Thomas, I…" I started saying. Before I knew it he had swung the bag of 20 metal trains around his head and struck me in the face. The force was incredible and I just couldn't believe the pain.
Dazed, I scrambled over the gearbox to escape out of the passenger door, beeping the horn as much as I could. But just as soon as I left the car Thomas was on me in a flash. He started punching me in the back of the head and kicking me. Terrified, I ran into a neighbour's garden to get away but he chased after me. He kicked me so hard that I fell through their front door and into their house.
I could barely see because of the blood running down my face but I could hear the people inside screaming. I fumbled on the ground as he continued laying into me – each kick felt like a hammer blow; I later learned he was wearing steel toe-capped boots. I ran on all fours up the stairs and fell into the bathroom at the top. It was tiny, barely big enough for a toilet and a sink and I was stuck as he pushed the door open and trapped me behind it.
I don't know how long he beat me for because I fell unconscious very quickly, but I remember him pushing his knee onto my chest and strangling me and cutting off my oxygen. I remember smelling his breath, the booze, his deodorant and the washing powder on his clothes. I tried to say: "I love you, Thomas. Why are you doing this?" but I couldn't breathe. I thought of my children. I didn't want them to grow up without a mum.
Then I gave in. I'd had enough. I blacked out. When I came to, I was alone in the bathroom. I could just about move my legs and I crawled out onto the landing and slowly down the stairs. My son Nathan came running in crying and screaming. "He said he'd killed you mum," he cried. "He said you were dead." I tried to speak but my upper and lower lips were fused to my teeth.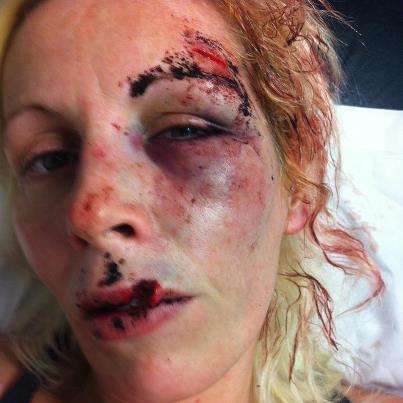 At the bottom of the stairs the neighbours gasped as they saw me. They had called the police and were yelling at Thomas to get off their drive. But he turned and came back to the doorway. They grabbed the door, which had come off its hinges when he threw me through it, and barricaded us in. Thomas took my car and vanished. Then the ambulance and the police arrived.
Barely conscious in the back of the ambulance I could hear over the police radio that Thomas had crashed the car into a house and was on foot. I felt like death; I felt like I shouldn't have survived, but there I was, still breathing. At the hospital I was given over 10 anesthetic injections and countless stiches in my face before being photographed by the police forensic team and interviewed for over three hours.
They told me they had followed Thomas after the crash by police helicopter as he ran back to his van. He must have known that the boots he was wearing would be classed as a weapon as he had thrown them away. But six officers got to him before he could hurt anyone else and took him to the station.
I spent the next day days in agony, curled up on the sofa crying my eyes out. Ten days later, I started to bleed heavily. Terrified for the twins after what had happened, I rushed to the hospital. But I had suffered a miscarriage and lost the twins. I was devastated.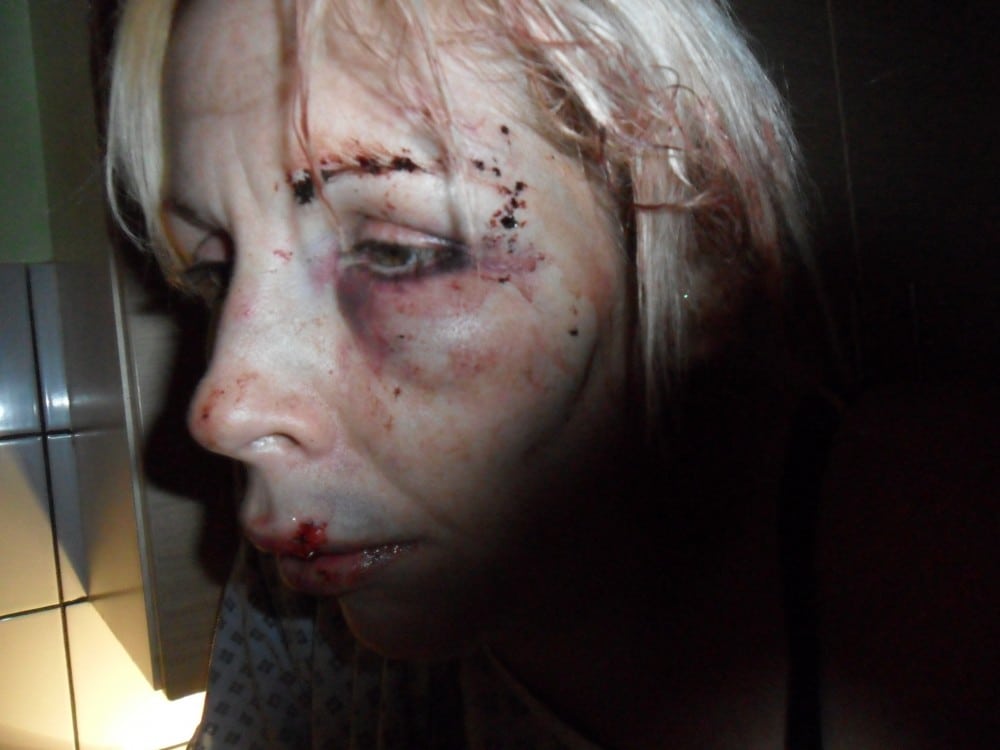 Thomas plead guilty at Winchester Crown Court in February 2013. Police said the attack was "extremely violent and horrific"; that he kicked me like "he was kicking a football."  They said that "kicking with the shod foot (a foot with a shoe on) is equivalent of using a weapon and this, together with the level of injury caused, put the offence into most extreme category." Thomas was sentenced to eight years in prison.
I wasn't happy. Who would have been? I lost my boyfriend, who I thought was the man of my dreams; and I lost my babies. My world crumbled. I learned that Thomas had serious mental health problems and I had been completely blind to it all along. I felt let down by him and his family. When I found out later that he'd been in jail before for assault and that he wasn't CRB checked by Radian housing, I was furious. The police told me to move as quickly as possible as they had put me in danger.
When I contacted Radian housing to complain they said they could do nothing about their policies. Even those that say they do not CRB check their employees. I don't know how many other people they have put in danger but now I've moved away from the area, I feel much safer.
---
If this story has affected you, or you're going through something similar at the moment, you can find out how to get help for domestic violence on the NHS Choices Domestic Violence page: http://www.nhs.uk/Livewell/abuse/Pages/domestic-violence-help.aspx
If you would like to share a story to help others in a similar situation, or expose someone who has abused you to warn others, please get in touch with us and we will be happy to assist you.  Simply fill out the form on the right hand side of this page with a little info explaining what your story is about.  One of our trained, friendly and professional writers will call you back to discuss your story in more detail.
You can read more about our track record in helping people share their domestic abuse stories on our Sell My Domestic Abuse Story page.